ARES NEWS
This Weekend: Valuable Lessons, Experience for ARES® Operators, to be Gained from Field Day 2017
ARRL Field Day is this weekend! Field Day is one of two (the other is the Fall classic Simulated Emergency Test) major ARRL events that is tailor-made for ARES and other groups and operators who provide emergency, disaster response and public event communications. It's not too late to get involved with this year's running this week. Check the Field Day Locator utility on the ARRL website for a Field Day operation/site near you. The purpose of Field Day is for participants to work as many stations as possible on the amateur bands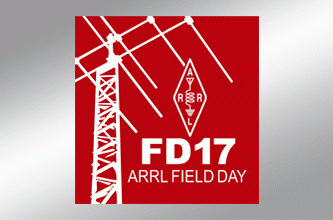 to learn to operate in abnormal situations in less than optimal conditions. Classes, scoring and bonuses are offered for meeting certain requirements that support the enhancement of operator preparedness and efficacy in disaster response in the sometimes extreme environment of a disaster area. We'll review a few of them here, along with valuable lessons to be gained from this coming weekend. [Note: This article is limited to a summary of FD aspects especially appealing to ARES operators; for a complete and official set of the 2017 Field Day rules, click here.]
Appoint a Safety Officer
One of the major takeaways from Field Day that directly transfers over to the interest of any ARES group is the appointment of a Safety Officer – every Field Day operation should have one, and so should every ARES organization. For Field Day, a 100-point Safety Officer bonus is available.
Actions of the Safety Officer include, but are not limited to, having fuel for generators properly stored; a fire extinguisher on hand, appropriately located; a First Aid kit on hand; First Aid, CPR and AED trained participant/s on site for the full Field Day period; access to NWS alerts to monitor for inclement weather; tent stakes properly installed and marked; temporary antenna structures properly secured and marked; site secured from tripping hazards; site is set up in a neat
Palm Beach County (Florida) ARES receives proclamation recognizing the emergency communications services of Amateur Radio, coinciding with Amateur Radio Week in Florida and ARRL Field Day, from county Commissioners at their June meeting. L to r, EC Barry Porter, KB1PA, County Commissioner Mary Lou Berger, and John Samuels, K2CIB, President, Palms West ARC. (photo courtesy Southern Florida Section Manager Jeff Beals, WA4AW)
and orderly manner to reduce hazards; stations and equipment are properly grounded; access to a means to contact police/fire/rescue if needed; the Safety Officer is designated point of contact for public safety officials; minimize risks and control hazards to ensure no injuries to public; as necessary, monitoring participants for hydration and ensures an adequate water supply is available; and whether a private residence, public park or farmer's field, when putting in ground rods (or digging/anchoring), check in advance with your local municipality (often that's by dialing 811) to confirm your intended installation is installed safely.
All of these action items and many more apply to any ARES emergency, disaster response or public event deployment to the field! Every ARES group should appoint a Safety Officer.
Field Day Classes Relate to ARES Operational Aspects
A few Field Day entry classes closely emulate ARES field operations. For example, Class A – Battery portable requires all contacts to be made using an output power of 5 Watts or less with a power source other than commercial mains or motor-driven generator. Batteries and solar cells are examples of permissible power sources. Sounds like a familiar ARES deployment scenario? Perhaps a portable station at a remote checkpoint on a mountain road rally?
The Class E Home station-Emergency power participant is limited to using emergency power for transmitters and receivers. This is the class that Field Day partner Eliot Mayer, W1MJ, and I will be operating, in the woods of rural northern Florida. You can find our site on the ARRL Field Day site locator. Type in "K1CE."
The Class F Emergency Operations Centers (EOC) entry is an amateur station at an established EOC activated by a club or non-club group. Stations may use equipment and antennas temporarily or permanently installed at the EOC for the event. For Field Day purposes, an EOC is defined as a facility established by: a) a Federal, State, County, City or other Civil Government, agency or administrative entity; or, b) a Chapter of a national or international served agency (such as American Red Cross or Salvation Army) with which your local group has an established operating arrangement. Operators work in conjunction and cooperation with the staff of the EOC being activated.
More Related Bonuses
A 100% Emergency Power bonus of 100 points is garnered when all contacts are made with only an emergency power source. All transmitting equipment at the site must operate from a power source completely independent of the commercial power mains to qualify.
Originate a formal message to your Section Manager or Section Emergency Coordinator and receive 100 bonus points. You should include the number of ARES operators involved with your station. In a separate Message Handling bonus, 10 points are awarded for each formal message originated, relayed or received and delivered during the Field Day period.
An Alternate Power bonus conveys 100 points for FD groups making a minimum of five QSOs without using power from commercial mains or petroleum driven generator; this means an "alternate" energy source of power, such as solar, wind, methane or water. This includes batteries charged by natural means.
If you invite and can get a visit to your FD site by an elected governmental official, you can win an additional 100-point bonus. Similarly, a visit by a representative of an agency served by ARES locally is worth another 100-points. Example agencies include the American Red Cross, Salvation Army, local Emergency Management, and law enforcement.
The above is merely a quick summary of classes and bonus points that translate to the interests and operations of any ARES group and members that could be deployed to a public event or disaster area, and are not the official rules. For a complete and official set of the Field Day rules, click here.
Have a great, happy and safe Field Day!
Buildout of Nationwide First Responder Broadband Network Could Drive Amateur Radio Emergency Service (ARES) Changes
The First Responder Network Authority (FirstNet) — a nationwide wireless broadband network for first responders — could change the complexion of how the Amateur Radio Emergency Service® (ARES®) functions to support communication for responders during disasters and emergencies. As an independent authority within the US Department of Commerce's National Telecommunication and Information Administration (NTIA), FirstNet's mission is to build out, deploy, and operate an interoperable nationwide broadband network dedicated to first responders. Ralph Haller, N4RH, the chairman of the National Public Safety Telecommunications Council (NPSTC), told ARRL that the advent of FirstNet "will likely be as significant as when public safety first began using radio."
"The nationwide network will be hardened, so that it will be more likely that many of today's public safety systems remain operational in emergencies," Haller said, pointing out that Amateur Radio should not expect to have access to FirstNet. He cautioned, "The endurance of Amateur Radio systems in disasters has been a big selling point in the past for incorporating amateur operators in emergency plans, but perhaps not so much in the future."

NPSTC is a federation of organizations that work toward improving public safety communication and interoperability, and ARRL has a seat on NPSTC's Governing Board. Haller predicted that Amateur Radio's role in emergencies will not disappear. "There is no substitute for eyes and ears on the ground in an emergency," he said, adding that radio amateurs "can and should continue to play an important part" in supporting emergency communication.
"Amateur operators can continue to provide valuable information to emergency operations centers in the recovery phase of disasters," he said. "Whether that intelligence gathering is reporting on storm clouds, power outages, or road closures, amateurs can help provide critical, real-time information about conditions over a vast area. While first responders are treating the injured or protecting life and property, the amateur community can concentrate on assessing the overall picture."
Ralph Haller, N4RH, the chairman of the National Public Safety Telecommunications Council.
On March 30, FirstNet and the Commerce Department announced a 25-year partnership with AT&T as the primary contractor to make FirstNet a reality. "The ability to communicate seamlessly across jurisdictions is critical for law enforcement, fire, and emergency medical services (EMS) when securing large events or responding to emergencies and disasters," a Commerce Department news release said. "In those instances, networks can become overloaded and inaccessible, limiting responders' use of vital communication technologies, such as smartphones and applications dedicated to public safety services."
Public safety agencies already use commercial wireless networks, such as AT&T and Verizon, to supplement their own radio systems and networks, although such communication is not point to point. FirstNet is initially targeted primarily to provide video and data, with mission-critical voice communication at least a decade away. EMS is likely to become a heavy user of the network, which will employ voice command functions a la Siri or Alexa.
"Be sure the public safety organizations never forget how valuable the amateurs are!" — NPSTC Chairman Ralph Haller, N4RH
Inevitably there will be coverage gaps, and the development of "deployables" is critical. These devices can expand the network to areas it doesn't cover but where it may be needed for a specific incident. Deployables could include satellites — Inmarsat is a member of the AT&T team. Network security and encryption is a high priority. The Military Auxiliary Radio System (MARS) now uses encryption on its data nets.
While images in the form of digital Amateur Radio television (DATV) and a plethora of digital modes are available to ARES, FirstNet could nudge ARES to more quickly adopt a similar approach. A new generation of radio amateurs steeped in data, image, and video technology is likely to drive ARES to think beyond analog.
Haller advised that the Amateur Radio community should continue to work closely with public safety organizations at all levels to assure that they remain a part of emergency plans.
"The hype about broadband should not result in amateurs inadvertently being swept under the rug," Haller stressed. "Be sure the public safety organizations never forget how valuable the amateurs are!"
FirstNet will use spectrum at 700 MHz — no immediate threat to Amateur Radio allocations, although there is no guarantee that this won't change as the network approaches the shift to 5th generation (5G) technology. Amateur Radio has access to significant spectrum above 700 MHz.
The expectation is that within a couple of years, a nationwide "core" network will be ready to roll out, and the first public safety users will be on board. Some regional networks have been set up for proof-of-concept purposes and to work out wrinkles. — Thanks to Mike Corey, KI1U, and Ralph Haller, N4RH
Amateur Radio Provides Communication Link Following Sri Lanka Flooding
Members of the Radio Society of Sri Lanka (RSSL) responded to an urgent call for help in the wake of torrential monsoon rainfall in southwestern Sri Lanka on May 28 that caused flooding and landslides. The Road Development Authority (RDA) contacted RSSL President Jaliya Lokeshwara, 4S7JL, seeking communication help from radio amateurs. The RSSL reports that emergency communication was needed to link remote Kalawana, one of the worst hit areas, and Ratnapura. All communication had failed due to heavy flooding, landslides, and damage to the telecommunications infrastructure.
The RDA declared roads were impassable. Only air rescue by the Sri Lanka Air Force helicopters was possible, and the lack of communication support made that task even more difficult. A plan was quickly put into place to airlift four radio amateurs from the capital, Colombo, to both affected locations to form a communications link.
Jaliya Lokeshwara, 4S7JL, and Nadika Hapuarachchi, 4S6NCH, were the first ready to go. A second team consisted of Victor Goonetilleke, 4S7VK, and Dimuthu Wickramasinghe, 4S7DZ.
Radio amateurs get ready to roll out en route to flood-stricken areas in Sri Lanka. [Photo courtesy of RSSL]
"We knew we could do it. We were self-sufficient and willing to rough it out," Goonetilleke said. "It was a hard task, but within 30 minutes of landing, the high frequency link was established." They used 40 and 75 meters, as well as 2 meters. He said they spent 2 days coordinating rescue flights, the movement of patients from Kalawana hospital to Ratnapura, and food drops.
The emergency link remained in place until mobile phone service was restored and roadways cleared. "We are happy we could win the day for simple high-frequency radio," Goonetilleke said.
The disaster recovery continues. Nearly 180 people died, and thousands were displaced by the weather disaster. — Thanks to Jim Linton, VK3PC, Chairman IARU Region 3 Disaster Communications Committee, with Jayant S. Bhide, VU2JAU, National Coordinator for Disaster Communication in India (ARSI), and Victor Goonetilleke, 4S7VK
Maritime Mobile Service Net Relays Distress Call; Crew, Passengers, and Vessel Safe
The Maritime Mobile Service Network (MMSN) recently served as a critical communication link after the sport fishing vessel Free Spirit put out a "mayday" distress call on VHF marine channel 16 after running into trouble in Mexican waters. Brian Stipak, KF7QCX — skipper of the sailing vessel Ubiquity — heard the May 13 mayday, which advised that the Free Spirit was sinking quickly with four people on board and that all were abandoning ship. Unable to raise coastal stations on his vessel's VHF radio, Stipak went to the MMSN's 14.300 MHz frequency. Despite marginal band conditions, he was able to relay a position report to net control station Ken Porter, AC0ML, who had assistance from fellow NCS Scott Roberts, KK4ECR.
"They were taking on water and could not find the source, and were deploying their life raft," Stipak recounted on his website. "He clearly gave the coordinates for his position, which I plotted and saw [he] was about in the middle of the Sea of Cortez, about 46 nautical miles from me. My VHF communication with him was marginal." Stipak said that while he could barely hear the MMSN net control, the operator was able to copy the information. The S/V Fathom also heard the mayday and set a course for the distressed boat.
Porter notified the US Coast Guard in San Diego to relay the information to the Mexican Navy, which dispatched a vessel to the Free Spirit's last-known position. The Coast Guard also tried to raise Ubiquity on 14.300 MHz, but band conditions were changing rapidly, and there was no further contact.
Stipak was also able to get through on his cell phone to the port captain at Puerto Escondido and leave information on the distress call.
"We did not hear from the boat in distress for an hour, the last communication saying they were deploying the life raft. I thought the boat had likely sunk," Stipak said in his website narrative. "Then, the captain of Free Spirit came on the VHF again saying they had found and stopped the leak, were trying to pump out the boat, could not start the engine, had deployed the life raft, but not abandoned the boat and did not yet want to cancel the mayday.
Roberts later learned via the Coast Guard that the Free Spirit had been towed to the port of San Carlos and that all on board were safe.
"It looks like a great resolution to a very intense situation," Stipak allowed afterward.
The MMSN is in its 50th year of operation. — Thanks to Jeff Savasta, KB4JKL, MMSN assistant net manager
Amateur Radio Volunteers Support 2017 Boston Marathon
05/01/2017Nearly 280 Amateur Radio communication volunteers on April 17 participated the 2017 Boston Marathon, the 121st running of the event organized by the Boston Athletic Association (BAA). Warmer-than-typical temperatures for the Patriots' Day race raised concern for increased medical issues, but lower humidity and some cloud cover later in the afternoon mitigated the potential for problems.
Amateur Radio's primary communication role involved logistics. Amateur Radio operations included relaying medical resupply requests, picking up runners via medical sweep buses, conveying medical statistics as required by the Red Cross and Massachusetts Department of Public Health, and providing situational awareness as needed along the entire 26-mile route. Amateur Radio also backed up EMS communications, and the team relayed several ambulance requests along the route. Brett Smith, AB1RL, one of the BAA Organizational Committee representative, said Marathon organizers were very pleased with the efforts of Amateur Radio Operators.
"Congratulations to everyone on a job very well done," Smith said afterward. "We were braced for a busy day, and our preparation helped see us through to make sure it was never anything we couldn't handle." Smith said that many volunteers enjoyed spending their day supporting the Marathon this year.
"We're already seeing e-mails from our volunteers thanking us for our work too. So the work was appreciated not only by organizers from the BAA but the volunteers as well," he said.
Course volunteer Matt Knowles, KC1AEI, was among them. "I feel like Amateur Radio plays an important role in the safety and security of the Boston Marathon," said Knowles. "Our net operators were succinct, clear, and very patient, as we took care of our individual responsibilities on the course. All of the communications volunteers put forth a unified effort on Monday, which made for another successful race.
Rob Macedo, KD1CY, the other BAA Organizational Committee representative, reported that state emergency managers were very pleased with the logistics and situational awareness support from Amateur Radio operators. He was stationed at the Multi-Agency Coordination Center (MACC), located at the State Emergency Operations Center (EOC) in Framingham.
"At one point mid-afternoon, one of the two finish line medical tents was filled to capacity," Macedo recounted. "The BAA and EMS representatives at the MACC were impressed at receiving the on- and off-diversion reports in a timely fashion from Finish Segment Coordinator Matt Brennan, NM1B."
Start Segment Coordinator Mark Richards, K1MGY, said all of the planning and setup at the race's starting point of Hopkinton paid off. "We provided BAA organizers at the start with an analysis that looks to correlate the planned and actual times of the start of the race very well," he said.
Course Field Operations/Course Net Control Segment Coordinator Jim Palmer, KB1KQW, said he was pleased with the performance of the Amateur Radio teams throughout the event. "Numerous course Amateur Radio volunteers have already expressed their appreciation for a well-run, highly organized event, and are already looking toward volunteering at the 2018 Marathon," he said. Course volunteers logged an estimated nearly 1,000 volunteer hours, and Palmer said their support was instrumental to the success of the communication support mission.
At the Course Net Control Operations Center in Brookline, students from Dexter-Southfield School provided support to net control operators during the event. Numerous nets cover the Marathon course, and all are run from this single location. Students regularly updated status boards, informing both local net control operators and the other net control operations centers of each ham radio volunteer's location. Veteran net control operators dedicated some time to work with the students to teach them how marathon nets operate, providing a robust ham radio learning experience in an educational setting.
Amateur Radio is one of three radio communication systems used for the Boston Marathon. Eight Amateur Radio representatives, including segment coordinators, sit on the BAA Communications Committee with BAA officials and representatives of the Massachusetts State Police and a commercial communications contractor. Boston Marathon Medical Coordinator Chris Troyanos, who chairs the Communications Committee, has let the Amateur Radio community know that it is — and will remain — a vital component of Marathon communication support. — Thanks to Rob Macedo, KD1CY
Radio Amateurs Support Colombia Landslide Disaster Relief and Recovery Effort
A disastrous landslide in Colombia overnight on March 31-April 1 left more than 260 dead and devastated the town of Mocoa. Many others are injured or missing, and search crews are scrambling to find survivors in the rubble. An emergency Amateur Radio network was activated on 40 meters (7.093-7.095 MHz, to support the relief and recovery effort.
"The Mocoa and Garzón Fire Departments are aware of the network and also the additional support of HK3NOL, who is mounting additional antennas," said Roberto Rey, HK3CW. "Radio amateurs from La Plata and Garzón were critical in supporting personnel and rescuers," he said. "We're paying attention [to the situation]."
Heavy rainfall in Colombia's Putumayo Province triggered the mud and rockslide after a river burst its banks and debris swept into the town, burying homes and residents. President Juan Manuel Santos declared a state of emergency after visiting the town.
Nearly 1,300 National System for Risk and Disaster Management (SNGRD) team members are at work in the area. A flotilla of aircraft, vehicles, and watercraft has been deployed for the effort. — Thanks to UNGRD Director Carlos Iván Márquez Pérez; IARU Region 2
ARES Volunteers Support Evacuation, Shelters, in Wake of Oroville, California, Dam Crisis
Sacramento Valley ARES Section Emergency Coordinator Greg Kruckewitt, KG6SJT, reported this week that Amateur Radio Emergency Service (ARES®) volunteers actively supported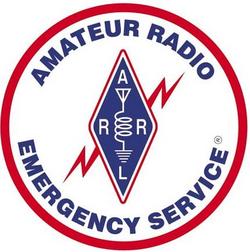 communication for the evacuation and sheltering of nearly 200,000 people living below the damaged Oroville Dam in rural California. The dam, on the Feather River east of Oroville, is the tallest in the US. Following a period of heavy rain, a section of the earthfill-embankment dam's spillway eroded, and authorities ordered residents living below the dam to evacuate, in case the dam should fail. Crews have been attempting to fill the eroded area with rock transported by helicopter. On February 14, authorities lifted the mandatory evacuation order, but said it could be re-imposed, if necessary. Residents returning home were advised to remain vigilant, should the situation again become critical, and some ARES activity continues.
"Things have really calmed down for now after the mandatory evacuation notice was reduced to an evacuation warning," Kruckewitt told ARRL on February 15. "At this time, only the Butte County ARES group is deployed to the Chico Fairgrounds to support the Red Cross — possibly through the weekend." The Chico shelter will remain open until the next storms pass.
FEMA reported that the Kelly Ridge Powerhouse located below Oroville Dam is flooded and unsafe. "Any further flooding could result in the potential release of 500 gallons of turbine oil stored in tanks," the agency said on February 15.
Butte County ARES EC Dale Anderson, KK6EVX, was called out by the emergency operations center (EOC) on the evening of February 12. Six members of the Butte County ARES team have been deployed to the Red Cross evacuation shelter at the Chico fairgrounds. "ARC still wants us at the Chico Fairgrounds," Anderson told Kruckewitt on February 15. "We are down to one VHF unit and one operator on watch for now."
On February 12, Yuba/Sutter ARES EC Steve Sweetman, K6TAZ, opened and managed a net to provide information and gather reports of road closures or problems during the evacuation. The net received reports from radio amateurs who were evacuating. Traffic was reported to be very heavy, with a trip that would normally take 20 minutes extending into a "3-hour stop-and-go ordeal," Sweetman said. The net also gathered and disseminated information on where evacuees could get fuel. "This became a critical need, as the thousands of people evacuated their houses with 1-hour notice," Kruckewitt said. Sweetman provided shelter for 17 evacuees.
The Sacramento County EC Vince Cracchiolo, KI6NHP, was called into the Sacramento County Emergency Operations Center (EOC) on February 13 as the Red Cross opened a shelter at Cal Expo in Sacramento. Kruckewitt said the Sacramento Valley Section received offers of help from hams outside of California. As of February 15, FEMA was reporting 16 shelters open with 2,606 occupants.
"All ARES groups in the section are on standby, if help is needed. So far, the dam is holding, and repair work is under way at last report," Kruckewitt said.
According to the California Department of Water Resources (DWR), evacuation orders were issued to residents surrounding Lake Oroville late Sunday afternoon. "DWR has been monitoring conditions at Lake Oroville's main and auxiliary spillways around the clock for signs of erosion that could threaten the integrity of the emergency spillway and allow large, uncontrolled flows to the Feather River," the agency says on its website.
FEMA Interoperability Exercise Deemed a Success, Monthly Exercises Set for 2017
Laura Goudreau, KG7BQR, Regional Emergency Communications Coordinator for FEMA Region X, said a December 21 Region X interoperability communications exercise on 60 meters went well. FEMA Region X, which consists of Alaska, Idaho, Oregon, and Washington, now has announced that it will hold similar exercises each month in 2017, with all radio amateurs welcome to participate.
"We had 48 check-ins, of which 42 were amateurs," Goudreau said of the December event. "It was very successful and also included our first digital test." The "COMMEX" event consisted of check-ins from authorized state, tribal, federal, and Amateur Radio stations to test HF interoperability in case of an emergency or disaster response. The interoperability aspect between federal stations and Amateur Radio licensees was coordinated and authorized by the NTIA and the FCC.
The net included a digital component, intended as a one-way broadcast to test FEMA's ability to send messages and for remote stations to receive them. Goudreau said that while there's still room for improvement in the digital area, overall, she was happy with how the exercise played out.
During 2017, FEMA Region X will hold a communication exercise (COMMEX) on the third Wednesday of each month, 1500-2100 UTC. The initial exercise will take place on January 18.
"The intent of [each] COMMEX is to test and exercise interoperable communications (federal/state/local/tribal/amateur) during a major disaster, where communications infrastructure would be significantly damaged or destroyed," a FEMA Region X announcement said. FEMA Region X will use the call sign WGY910. Others taking part in these exercises will include, but are not limited to, other FEMA stations, SHARES stations, and Air Force and Army MARS stations. All stations are encouraged to participate.
The COMMEX will use the five 60-meter channels: 5,330.5 kHz, 5,346.5 kHz, 5,357.0 kHz, 5,371.5 kHz, and 5,403.5 kHz. The area of operation is the Continental US. — Thanks to FEMA Region X Regional Emergency Communications Coordinator Laura Goudreau, KG7BQR, and FEMA Spectrum Manager Dave Adsit, KG4BIR
Recently, the FEMA Region IV RECCWG members formed an auxiliary communications working group to improve the relationship between agencies at all levels and its auxiliary communications volunteers. Steve Waterman, K4CJX, a RECCWG member, was asked to chair this working group. Although the FEMA Region IV RECCWG working group has only recently formed, its members have already identified the following objectives:
Provide a model plan of action for agencies at all levels who wish to enhance their staff by adding non-paid, qualified auxiliary communications (AuxComm) volunteers. This would include mainly, but not exclusively, interested Amateur radio operators local to these civil organizations, and their critical infrastructure partners. It would include sample county and State operations plans that includes ongoing participation of these volunteers in a meaningful way.
Promote the education of auxiliary communication volunteers through inclusion of FEMA on-line NIMS courses, specific agency "101" training, and relevant classroom courses such as ICS-300, COML, the Office of Emergency Communications (OEC) AuxComm course, and periodic exercises. The objective is to familiarize the auxiliary communications volunteer with the NIMS Incident Command System (ICS) process, and how the supported agency/office works within the ICS framework.
Define productive ways in which AuxComm volunteers may interact with agencies, including County "Reserve" groups, ARRL ARES groups, Ham Clubs, and others that can be brought into the methodology of the soliciting agency. In other words, define common processes that can be devised to enhance a smooth working relationship between AuxComm groups and the organizations they wish to support. Establishing and maintaining relationships between agency personnel and the AuxComm Volunteers is the key to effective support;
Define obligation and liability issues for both Agencies and AuxComm volunteers.
Define services needed by the agency wishing to utilize AuxComm support. There are several pathways in which these groups may be able to provide effective communications transport layers for these agencies where and when needed. Example: deploying the use of the Department of Homeland Security's National Communications Coordinating Shared Resource program (NCC SHARES), MARS, use of the Amateur Radio Spectrum under Part 97, and the agency's own FCC Public Safety spectrum, etc.
Determine an effective method of disseminating the findings and material resulting from the working group's efforts, which will benefit those who are not now deploying AuxComm personnel.
Seek out examples of successful statewide and regional amateur radio programs in order to incorporate best practices and improve standardization nationally.
This RECCWG Working Group has a diverse membership including representatives form State emergency agencies, ARRL leadership, FEMA Regional staff, AuxComm instructors, Statewide Interoperable Communications coordinators (SWIC0, I.T and Tribal representatives. As this FEMA Region IV RECCWG Working Group progresses, it will provide further information. If you would like information about this group or the FEMA Region IV RECCWG please contact Donnie Monette, Donnie.Monette@fema.dhs.gov.
Republished with permission from the FEMA Regional Emergency Communications Coordination Working Group (RECCWG) Newsletter.
Notes from California Wildfire Responses; Lessons Learned
California, and the west in general, has suffered wildfires of epic proportions. Recently, a few ARES and other amateur responders wrote about their experiences and lessons learned.
Lou Arbanas, NJ6H, District EC for Monterey County, California, reported that this past summer's Chimney and Sobranes fires posed challenges for the amateur community. For many operators and CERT teams who had not drilled previously with Monterey County ARES prior to the fires, county ARES protocols and processes in the first weeks of the fires were confusing. The fires affected only sparsely populated areas, and existing, normal communications infrastructure remained intact, thus significant ARES assistance was not indicated. Amateurs did not self-activate or self-deploy, which was a positive, and critically important for any incident, but more training during controlled exercises and communications operations for public events is clearly indicated for the future.
In Monterey county, its sheer size challenges the communications structure within the ARES organization. ECs were able to text (short message service — SMS) each other where VHF/UHF links were not possible. In the first hours of the fires, ECs texted photos and messages to the EOC, which proved valuable there as reports from "eyes on the ground." ECs maintained communication with their operational areas (OA) and provided their ARES volunteers with information as needed. Lesson learned: The use of the most efficient and effective mode/service of communications is always indicated, regardless of whether it is the amateur service or not, including social media! Other efficient systems can and should be employed whenever possible; for example, Web EOC was fully active and functioned well on keeping radio traffic down. As the hours turned into days, days to weeks, and weeks to months, Web EOC allowed operators to stay connected, contributing from their offices and homes without having to spend hours physically at the EOC.
Liaison was quickly forged with San Luis Obispo County and Salinas Valley repeater owners in the first days of the Sobranes Fire. Mutual aid arrangements were made with the Santa Clara OA through Brandon Bianchi, NI6C, Section Manager, and Section Emergency Coordinator Larry Carr, KE6AGJ; thus, Monterey County ARES was in an elevated state of readiness and prepared to function, with support available.
Butte Wildfire 2015
The Butte Fire raged southeast of Sacramento, California, in the Stanislaus National Forest region last year. Amador County ARES supported the Red Cross shelter with radio communications for 102 hours in September, 2015. Daniel L. Edwards, KJ6WYW, Amador County EC, reported that three operators deployed to the shelter on short notice, and set up a station from a go-box and a 2-meter band antenna. Shelter staffers provided chairs, table and extension cords for the operation. ARES ops erected a pop-up tent over the table. A net was announced, and ARES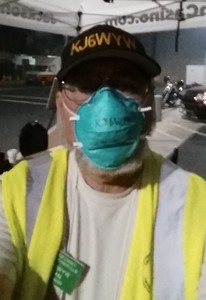 members checked in. An NCS rotation and roster was announced, with shifts limited so that operators would not become fatigued. Each shift consisted of two operators: One manned net control and the other provided liaison with the shelter personnel. Handi-talkies were used for communication between these individuals. Operators also monitored a Cal Fire channel. ARES set up a communications trailer with a third mobile unit/station and alternative power sources. Yolo County ARES volunteered support as did Sacramento ARES, for well-received mutual aid.
No official messages were sent or received but ARES net operators did disseminate situation reports and observations on the location and movement of the fire, the closure of roads and the areas being evacuated, which proved valuable to agencies struggling with coordination. With the ARES station's prominence in the shelter's parking lot, ARES operators found themselves becoming the first point of contact for evacuees coming to the shelter. To insure that the repeater was kept clear for network traffic, it was announced each hour that the repeater was under net control for traffic limited to fire-related messages and reports. Cooperation of regular repeater users was outstanding. A positive outcome was that the repeater manager will program the repeater to include automated statements for use in future incidents.
Los Angeles
ARRL Los Angeles (LAX) Section Manager Diana Feinberg, AI6DF, reported that Los Angeles County (which with 10.2 million residents comprises the entire ARRL LAX Section) Amateur Radio operators were not activated during any large-scale fires or disasters to-date in 2016. There was, however, a CERT-like Amateur Radio group in a mountain community that did an outstanding job of undertaking their own radio operations for two days during a 400-acre brush fire in June caused by a car accident, with the disaster Amateur Radio group at a nearby Sheriff's Station also activated for about a day.
ARES in Los Angeles County is largely committed to providing back-up communication for hospitals during major disasters (the amateur service is seventh of the eight protocols for disaster response communication with the County health services department.) Many LAX ARES members participate in the annual Statewide Healthcare Exercise testing hospital operations and communications in disaster situations. [This year's exercise will be held tomorrow, November 17].
On the RACES front, the Los Angeles County Sheriff's Department has a large group of disaster communications-prepared Amateur Radio operators as Sheriff's Volunteers across 23 Sheriff's Stations that have fully-equipped Amateur Radio rooms, radios and antennas on the Station towers (Feinberg serves as the countywide training chief for this organization). Five of these stations also have specialized volunteer mountain search and rescue teams to find lost or injured hikers and motorists — and Amateur Radio operators at those Sheriff's Stations have often been called up to provide auxiliary communication in back country areas. Additionally, almost half the County's 88 incorporated cities including the City of Los Angeles have their own disaster Amateur Radio group. ARRL Southwestern Division Vice Director Marty Woll, N6VI, also serves as Training Officer for the City of Los Angeles' Auxiliary Communications Service (ACS) radio organization.
Volunteer radio groups were not activated for the 41,400-acre Sand Fire that raged in north L.A. County for over a week during July 22-31, 2016. A stated reason for not using any volunteers then was safety concerns following shootings of police officers in Dallas, Texas, and elsewhere during the previous weeks. Additionally there were no significant disruptions to normal communication systems. Unlike some other areas in the United States, all fire departments in Los Angeles County are completely staffed with 24/7 full-time professionals (plus some low-risk inmate wildfire teams). Only two small communities rely on volunteer firefighters for fire-suppression assistance while leaving paramedic services to full-time professionals.
For the most part, the volunteer disaster Amateur Radio organizations in Los Angeles County train regularly, heavily focused on a major earthquake scenario. I expect all these disaster Amateur Radio groups will be fully involved then. – Diana Feinberg, AI6DF, ARRL Los Angeles Section Manager
Amateur Radio Volunteers Mustered in Response to Hurricane Matthew
After the longest activation in its more than 50-year history, the Hurricane Watch Net (HWN) secured operations for Hurricane Matthew on October 9 at 0400 UTC. HWN Manager Bobby Graves, KB5HAV, reported that the net was in continuous operation for 6 days, 7 hours, gathering real-time ground-truth weather data as the storm passed through the Caribbean and up along the US Eastern Seaboard, and passing the data along to WX4NHC at the National Hurricane Center (NHC). Various Amateur Radio Emergency Service (ARES) nets also activated along the East Coast. The first major hurricane of the 2016 Atlantic hurricane season and, at one point, a Category 5 storm, Matthew was downgraded to a post-tropical cyclone as it headed out into the Atlantic.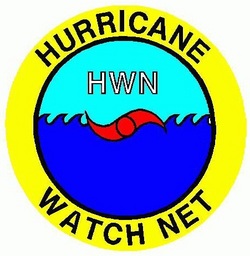 "Many have perished in Haiti and Cuba as a result of Matthew, and the death-toll rises still," Graves noted. "Many residents in the Bahamas and the US East Coast states of Florida, Georgia, South Carolina, and North Carolina felt the impact of Matthew as well." More than 30 died in the US. FEMA reports that power remained out for thousands of Florida, Georgia, South Carolina, and North Carolina residents as of October 13. Cell service also was affected.
The VoIP SKYWARN/Hurricane Net (VoIPWX) attracted a number of visitors, according to net managers. "On board Saturday afternoon, in addition to WX4NHC at the National Hurricane Center, stations representing a number of FEMA regional offices and the National Response Coordination Center monitored the net for actionable intelligence to be used to plan recovery operations," said net Public Affairs Officer Lloyd Colston, KC5FM. The net also activated on October 3.
The net said its Georgia Reflector was linked to the WX-Talk conference, so net managers could help to relay reports to local National Weather Service offices on NWSchat and the NHC.
According to Chief of Operations Dennis Dura, K2DCD, the net established a link up the East Coast into North Carolina and continued to monitor for damage assessment in areas the hurricane had already passed. The net supported the NHC on the WX-Talk Conference, Node #7203 on EchoLink.
The Salvation Army Team Emergency Network (SATERN) on 14.265 MHz also was active for Matthew, handling outbound emergency, priority, or health-and-welfare traffic from hurricane-affected areas.
Among activities in Georgia, ARES District Emergency Coordinator and MARS member Tom Holcomb, K5AES, reported that WX4GMA, the Georgia Emergency Management Agency ARES team station, was activated on October 7, running 12-hour shifts. Operation was on HF as well as on D-STAR and EchoLink.
HF message traffic included shelter updates from coastal counties and periodic NHC weather updates via WX4NHC, which were passed along to the GEMA director. Coastal county-related traffic and weather updates also were handled via D-STAR. WinLink was used to pass periodic status updates from the Georgia State Defense Force, a volunteer component of the Georgia Department of Defense. The EchoLink Georgia Conference node provided updates on storm-related conditions. On October 6, ARES and Army MARS personnel were called on to provide technical assistance to, and an operator for, a FEMA SHARES station in Atlanta.
Among activities in South Carolina, ARES volunteers staffed evacuation shelters, with radio amateurs coming from outside the affected areas to help. "Overall, I believe the radio operators that were available for the event did an outstanding job and I am proud to know them," said South Carolina Section Emergency Coordinator Joe Markey, AJ4QM.
According to FEMA on October 13, mainstream river flooding threatened the Carolinas, and some dams were breached. Several hospitals remained closed.
The Hurricane Watch Net activated again for several hours on October 13 for Hurricane Nicole, after a hurricane warning went into effect for Bermuda. The NHC at one point called Hurricane Nicole an "extremely dangerous" Category 4 storm, with maximum sustained winds of 125 MPH. The VoIP Hurricane Net (VoIPWX) also activated to monitor online weather stations and storm bloggers from the Caribbean Hurricane Network (stormCARIB), as well as social media.
"While we do hope this is the last hurricane for this season, let us not forget we are still in Hurricane Season," the HWN's Graves said. The Atlantic Hurricane Season ends on November 1.
Statewide ARES Activation Declared in Florida for Hurricane Matthew
The entire State of Florida was placed under an Amateur Radio Emergency Service (ARES) Level 1 — or full — activation on October 6, as Hurricane Matthew headed for landfall in the US. The category 4 storm has already caused more than 100 deaths, most of them in Haiti, as it moved northward through the Caribbean. The Northern Florida ARES Net was called up on 3950 or 7252 kHz — depending upon propagation — and will remain operational for the duration of the threat.
"This net is for life safety communications," ARRL Northern Florida Section Manager Steve Szabo, WB4OMM, stressed. "This net is not for collecting weather data, idle conversations, or 'chit chat.'" The Statewide Amateur Radio Network (SARnet) also has been activated for statewide use for life safety communications, continuing until terminated. SARnet is a network of linked UHF repeaters serving Florida.
"Hurricane Matthew relentlessly pounding the Bahamas…potentially disastrous impacts for Florida," is how the National Hurricane Center (NHC) in Miami characterized the storm, which, at 1800 UTC, was about 65 miles south-southeast of Nassau, the Bahamas, and 125 miles east-southeast of West Palm Beach, Florida. Matthew has maximum sustained winds of 140 MPH and is moving northwest at 14 MPH.
The NHC has predicted that Hurricane Matthew is expected to first reach hurricane warning areas in Florida by late today and will spread northward within the warning area through Friday. Tropical storm conditions are first expected in Florida within the next several hours. Hurricane conditions are possible in the hurricane watch area in northeast Georgia and South Carolina by early Saturday, with tropical storm conditions possible on Friday night.
More than 3,000 Florida residents already had evacuated to shelters by October 6, according to FEMA. Florida Gov Rick Scott said residents should prepare for a direct hit on the state. "This is serious," he said. "Don't take a chance."
---
For more information on hurricane preparedness, visit the Ready.gov website or read the American Red Cross "Hurricane Safety Checklist."
---
The ARRL Headquarters Emergency Response Team met on October 5. "We will be placing W1AW into emergency standby starting Friday morning, October 7, following the 8 AM ET bulletin," said ARRL Emergency Preparedness Manager Mike Corey, KI1U. "We will have W1AW staffed and ready to go on the air through late Friday night and on Saturday morning through evening. Saturday evening we will reassess the need to keep W1AW staffed over the weekend." Corey said that W1AW would monitor the Hurricane Watch Net (HWN), the SATERN Net, and the VoIP Hurricane Net. ARRL has been in touch with Field Organization volunteers in the US Virgin Islands and along the US Eastern Seaboard and will respond as needed.
Hurricane Matthew information updates will be posted to the ARRL website.
National SATERN Liaison Bill Feist, WB8BZH, reported on October 5 that Haiti was hit hard by Hurricane Matthew, and Jean-Robert Gaillard, HH2JR, in Port au Prince told SATERN that southern Haiti was "in bad shape." SATERN will remain active at a DELTA II (extended monitoring) status on 14.265 MHz at least through Friday, October 7.
Cuban radio amateurs were reported active in the eastern provinces of that island nation, with operation on 2, 40, and 80 meters. IARU Region 2, Area C Emergency Coordinator Arnie Coro, CO2KK, reported that HF radio equipment was dispersed throughout eastern Cuba in advance of the storm.
Poor propagation has hampered emergency communication on HF bands.
---
All radio amateurs are asked to avoid transmitting on or near any emergency net frequencies. In addition, stations should not check into any emergency or weather information net unless they have something to contribute.
---
The Hurricane Watch Net has been active all week on 14.325 and 7.268 MHz, gathering real-time "ground truth" weather data and storm-related information from affected areas. The net relays the information it compiles to forecasters via WX4NHC at the National Hurricane Center.
The VoIP Hurricane Net is supporting the NHC on the WX-Talk Conference, Node #7203 on Echolink and IRLP Reflector 9219. IRLP Reflector 9553 is the backup. (Due to the limited number of routes to the Echolink node for mobile devices, monitor WX-Talk on a desktop computer if possible.)
The Federal Emergency Management Agency (FEMA) has announced it may use several 60 meter frequencies for interoperability with other authorized stations, federal government stations, and Amateur Radio stations during the Hurricane Matthew response. It is requested that all stations stay clear of these frequencies unless they have emergency traffic relative to Hurricane Matthew. The Amateur Radio Service has secondary status on 60 meters.
The suppressed-carrier frequencies (dial frequencies) are 5330.5 kHz, 5346.5 kHz, 5357.0 kHz, 5371.5 kHz, and 5403.5 kHz (USB).
FEMA Region 4 in Atlanta (Southeastern US) will be using the Amateur Radio call sign KF4EMA to allow FEMA-licensed amateurs to provide situational awareness on various Amateur Radio nets within Region 4 relative to the Hurricane Matthew response. — Thanks to Mike Corey, KI1U, Bill Feist, WB8BZH, National SATERN Liaison, and Dave Adsit, KG4BIR, FEMA Spectrum Manager
Western Washington Section Manager Comments on June's Cascadia Rising; See September QST Article
Amateur Radio played a major role in the June 6-10 Cascadia Rising 2016 FEMA exercise in the Pacific Northwest, discussed in the comprehensive, excellent September 2016 QST article "Cascadia Rising 2016: Pacific Northwest Amateurs Called to Serve" by ARRL Oregon Section Manager John Core, KX7YT, and Western Washington Section Manager Monte Simpson, AF7PQ. The scenario was a magnitude 9.0 earthquake and consequent tsunami, causing a blackout of all conventional communication channels.
"Amateur Radio operators not only provided communications continuity for Emergency Management agencies, they worked with the Washington State Patrol, Washington State Guard, Washington National Guard, and the FAA," Simpson said in his recent after-action report. Simpson is also Washington's State RACES Officer. He said radio amateurs supported approximately 32 city, county, state, tribal, and federal agencies during the event.
"We were able to support all our served agencies and clients," Simpson recounted. "Volunteers were able to provide communications support on location and during the planned participation period." He said US Amateur Radio responders established cross-border communication with the emergency operations center in Langley, British Columbia, which was holding its own province-wide exercise, Coastal Response.
"Overall, our objectives of being able to communicate with external agencies via voice and Winlink were achieved," Simpson said. "It was great to be able to participate in an exercise of this magnitude to get a feeling for what it would be like to have this many people trying to send and receive data. All of our operators felt this was very beneficial."
Simpson said that including Amateur Radio as "an actual functional part" of Cascadia Rising was a big plus, and that the participants felt they were "actually part of the team and not some ancillary group that was just being tolerated."
Among his recommendations, Simpson said there should be more standardization on language and forms, as well as coming up with a method of establishing contact with communities that lack communication if repeaters go down. He also advised that ARES and RACES teams exercise their equipment on a regular basis, to avoid unexpected outages and failures during a real-world event. – Thanks, Rick Lindquist, WW1ME, ARRL Letter and QST Contributing Editor.
September is National Preparedness Month
Don't Wait.Communicate. Make your Personal, Family, CERT and ARES® Emergency Plans Today.
September is National Preparedness Month (NPM), which serves as a reminder to prepare, now and throughout the year, for the types of emergencies that could affect us where we live, work, and visit – and certainly for ARES (September also marks the beginning of the ARRL SET period, see below) responses. For more information, including a social media toolkit, visit www.ready.gov/september. In June 2003, ARRL became an official affiliate program of Citizen Corps, an initiative within the Department of Homeland Security to enhance public preparedness and safety. The Statement of Affiliation makes ARRL an affiliate under the four charter Citizen Corps programs–Neighborhood Watch, Volunteers in Police Service, Community Emergency Response Teams and Medical Reserve Corps.
See www.ready.gov/make-a-plan to help you make your plans. Also, in recent Facebook posts and tweets from @ARRL_ARES, ARRL Emergency Preparedness Manager Mike Corey, KI1U, gives tips on how to prepare ourselves and our stations for emergency/disaster response. A recent post suggested "communication becomes easier when you know what band fits your needs. Learn how to determine the best band for getting the message to where it needs to go." Follow the ARRL ARES® program @ARRL_ARES on Twitter. Follow National Preparedness @readygov Follow America's PrepareAthon @PrepareAthon
Letters: 12 Hour Shifts
Granted, long shifts and fatigue often cannot be avoided in emergency operations, but it comes with a price. Numerous private and public studies show that long shifts cause health problems and mistakes. Aside from the wear on personnel, it has been found that errors increase. So as many emergency responders and the military are often taught, "Rest your troops!" Granted, sometimes you may only have two operators to rotate and cover a position all day every day for a week, but everyone needs at least one six-hour "great sleep" every 24 hours, to avoid excess fatigue. And almost no one can really focus for more than two hours at a time, meaning that even an eight hour shift is too long if there are no breaks. Better to rotate in shorter shifts, or at least ensure the personnel literally get up, get out, and stretch their legs every hour or two. Twelve hour shifts are a good way to cause bad things to happen.
Get on Board the Simplex Contest Train!
Last month, we solicited information on locally oriented simplex contests across the country, and the readership came through. Here are a few examples that may serve as models for local ARES and other groups interested in exercising and enhancing their capabilities.
The Wireless Society of Southern Maine conducts its 2 Meter FM Simplex Challenge each February. Originally, the Challenge was created to allow all classes of licensees an opportunity to participate in a contest. It was quickly discovered that a great deal of information could be gained about VHF simplex paths in the State of Maine to aid in emergency communications planning. The inspiration for this contest came from the Plano Amateur Radio Klub, of Plano, Texas. — Frank Krizan, K5HS, Founding President, Wireless Society of Southern Maine
I wrote an article in April 2014 QST "The 2M Simplex Sprint – a Contest for Everyone". The contest inspires and boosts membership, garners knowledge of 2-meter simplex operation and capabilities, and promotes creativity with height, power, and antennas to develop communications strategies and getting to know and network with local and regional like-minded operators. Plus, it's just plain fun.
Last year was our banner year for participation and results. Just like the key to house-buying is location, location, location, so goes this contest: You have to communicate, communicate, communicate. For more info, click here. — Paul Lusardi, N0VLR, Corvallis, Oregon
The San Francisco Radio Club (in its 100th year, W6PW) held its second annual 2-meter QSO Party in August. More info on the event here. — David R. Dull, KK6JKC, San Francisco, California
The Aulani Hui Amateur Repeater Club sponsors the Hawaiian Islands Grid Madness, an event for all hams in the State of Hawaii. This event is designed for fun and to test equipment, coverage and operating skills using simplex FM on 2 meters and 70 cm. The idea is to contact as many stations in as many Grid Squares as you can, using simplex only. More here. — Stan Froseth, AH6KO, Kailua Kona, Hawaii
The Huntsville (Alabama) Amateur Radio Club engaged two Simplex Sprint contests in 2015 and again in 2016 with another scheduled for next year on June 17, 2017. For complete information about the event, including rules, simplex frequencies, past winners, scores, etc., see the club's website here. A custom logging program is available to assist with scoring. All contacts are multiplied by the power level, and then the number of unique zip codes the operator has logged at the end of the 3-hour sprint. We sure found out how far a 5 watt HT can get out with simplex with some antenna height and elevation. — M.D. Smith, WA4DXP, Huntsville, Alabama
K1CE For a Final
I rode out Hurricane Hermine in a cabin in the Suwannee river (northern Florida) basin, to the east of landfall, with emergency supplies, water, and battery-powered station and antennas. During the day, September 1, prior to the storm's arrival, I charged batteries and monitored area repeaters and the Hurricane Watch Net on 14.325 MHz. Later that evening, I checked into the Columbia (county) Amateur Radio Society emergency net on the group's Lake City NF4CQ repeater on 146.94 MHz, listening to weather reports from operators in the coverage area. After the net closed, I checked into the Alachua County ARES/RACES net on Gainesville's 146.82 MHz repeater. Both nets were controlled by excellent net control stations; the nets ran efficiently and effectively. After that net closed, I scanned area repeaters, and listened to NOAA weather broadcasts. At 1 AM the wind rose, sounding like a freight train; trees and limbs hit the ground. Power mains went out, but on battery power, I monitored my radios for information. Thanks go to the Hurricane Watch Net and the area ARES groups and nets cited above for a job well done.
Amateur Radio Volunteers Assisting in Italian Earthquake Response
Radio amateurs are taking part in the response to the 6.2 magnitude earthquake on August 24 in central Italy, International Amateur Radio Union Region 1 (IARU-R1) President Don Beattie, G3BJ, reports. IARU Region 1 Emergency Communications Coordinator Greg Mossop, G0DUB, has requested that 7060 kHz (LSB ±10 kHz) be kept clear of non-emergency traffic, as well as any other center-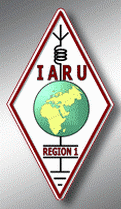 of-activity (COA) frequencies that may be in use for emergency communication within Italy. (On 80 meters, the COA frequency is 3760 kHz). Other frequencies reported to be active include 7045, 3643, and 3580 kHz (PSK).
The earthquake claimed some 240 lives, although rescue operations are still under way. According to the IARU Region 1 website, Italian radio amateurs are active in the emergency response, and no outside assistance has been requested at this time.
According to Beattie, the Italian Amateur Radio volunteers are "following their planned response with their government" and that any requests for information on missing persons should be made via the Red Cross or other recognized relief organizations.
The worst loss of life was in the town of Amatrice, where more than 180 people died. Tremors in the aftermath of the initial quake were felt as far away as Rome. Survivors are staying in tents or otherwise out of doors. A reported 4300 people were said to be active in rescue operations in the region.
Louisiana Amateur Radio Emergency Service Volunteers Stand Down
Amateur Radio Emergency Service (ARES) volunteers responding to the Louisiana flood emergency stood down on August 20. Assistant Section Manager Matt Anderson, KD5KNZ, reported over the weekend that Louisiana ARES was in the process of deactivating from the recent flood response, and that there was no longer a need for additional volunteers. Anderson served as the Incident Point of Contact in Baton Rouge.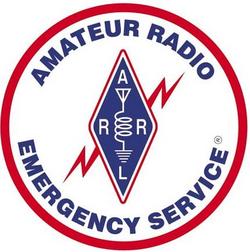 "Several amateurs will remain on site, reporting directly to the Red Cross as they begin to transfer to recovery operations," Anderson said. "We greatly appreciate all the assistance from ARRL HQ and the many Sections who provided support to the operation."
ARES volunteers in Louisiana deactivated after 6 days of operations in response to the flooding catastrophe, which also affected parts of Mississippi. ARES provided communication support to the Red Cross in five Louisiana parishes following the record flooding. At the height of the crisis, several shelters and Red Cross chapter offices were operating at full capacity, although the shelter population has diminished considerably.
Amateur Radio volunteers from Alabama, Arkansas, and Mississippi volunteered to serve at multiple Red Cross chapters and shelters throughout the affected area. With local and parish resources stretched to the limit, ham radio volunteers served as the communication link between Red Cross shelters and command centers, relaying information on the needs at each shelter back to Red Cross offices. Read more.
California RACES and CERT Volunteers Team Up to Assist Seniors during Blackout
When the power went out on June 4 at both the Huntington Gardens and Five Points senior residences in Huntington Beach, California, Huntington Beach RACES (HBRACES) and Community Emergency Response Team (CERT) volunteers promptly activated to help. Each residential structure stands 14 stories tall. At Huntington Gardens, a generator supplied power to the hallways and elevators, but not to individual living units or telephones; residents had no way of calling 911 if an emergency occurred. Five Points, with no back-up generator, was left in complete darkness.
RACES Radio Officer Dr Steve Graboff, W6GOS, and his assistant, Steve Albert, KE6OCE, started a 2 meter net and logged in available communicators. Operators checked into the net were advised to proceed to the staging at Huntington Beach City Hall.
"[T]he response to the call to activation by HBRACES was impressive," Graboff said. "The professional communications skills displayed by the operators were outstanding. The quality of HBRACES training was clearly evident in all of our responders, including those deployed in the field and others who were assigned to the incident command post."
HBRACES communicators paired with a Huntington Beach CERT responder, and each team was assigned to a floor of the two facilities to cover communication and emergency calls. This marked the first time Huntington Beach RACES and CERT members were deployed in pairs.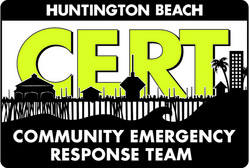 The volunteers patrolled the floors of the buildings in the dark, looking and listening for people in need of help, or for anyone who might take advantage of the situation. Residents thus had direct communication with the Huntington Beach Fire and Police departments. Graboff said that having both organizations working together created a safer environment for the volunteers, since they were not alone. The Red Cross dispatched a canteen vehicle to support the volunteers with snacks and coffee.
"RACES and CERT worked well together, and I believe this is a response model we will use again in the future," Graboff said. Some 60 volunteers turned out, and several residents of the affected facilities thanked the RACES and CERT volunteers for being there. — Thanks to Bob Zamalin, WA6VIP, via the ARRL ARES E-Letter
Spotlight: Boulder, Colorado ARES – A Juggernaut
Boulder County (Colorado) ARES assignments are like a box of chocolates — you never know what you'll get. From providing communications for the appearance of the Dalai Lama to mega-concerts by superstar groups and everything in between, this versatile and talented group of ARES volunteers respond with professionalism and with state-of- the-art technologies in order to provide their served agencies with real-time situational awareness and alternate communications services. Just this summer alone, BCARES has been asked to provide voice, data and digital ATV communication services for the Bolder Boulder 10K run, public safety agencies securing the Dalai Lama visit to the city and a concert by former members of the Grateful Dead, and most recently the Cold Springs Fire, a 600-acre wildfire that threatened the mountain community of Nederland, Colorado.
The Bolder Boulder 10-kilometer run had over 54,000 runners, walkers, and wheelchair racers, making it the second largest 10K race in the US and the fifth largest road race in the world. BCARES provided situational awareness via their pioneering digital ATV systems along the entire course to the finish line in Colorado University's Folsom Field. The video was sent simultaneously to race officials, the Boulder Police Department, the Colorado University Police Department and a federal agency.
The visit of the Dalai Lama to the Colorado University campus packed it with more 50,000 in attendance. BCARES deployed its ATV assets to monitor the large crowds and traffic in and around the stadium. This provided the CU and Boulder PDs and event organizers with live situational awareness at their incident command posts.
The following week, Folsom Field played host to concerts by original members of the Grateful Dead. They played to back-to-back sold-out crowds for both weekend nights. BCARES members again provided their video situational awareness to the police departments and event organizers, when EMTs were requested for medical incidents. The live video feed proved invaluable for event personnel to provide timely and appropriate responses. During football games in the fall season, the BCARES group uses the CU campus and Folsom Field as training grounds for their advanced digital ATV ops and test links to served agencies.
Cold Springs Fire Response
Most recently, BCARES was called out by the Boulder Office of Emergency Management and the Boulder County Sheriff's Office to provide alternative radio communications services during the Cold Springs Fire. Affected was Nederland, a small town west of the City of Boulder, high up in the mountains and surrounded by State and National forest land. Forced evacuations were called for and evacuees were sent to three different locations; their large animals were evacuated to the Boulder County Fairground facilities.
During this incident, no ATV was asked for due to the volatile fire situation and concern for the safety of BCARES ATV operators. Fire Incident Commanders closed many of the access roads to and from Nederland in order to provide safe routes for the wildfire crews being deployed to various hot spots.
The operators did have the opportunity to prove out the BCARES Mountain Emergency Repeater Network (MERN) that had provided a critical communications platform for the area during the floods of 2013 that destroyed many communities to the north and east of Nederland.
During that flood, telephone poles and fiber optic lines were down, but communication links remained intact between the amateurs and the Boulder EOC and OEM. "We were able to maintain effective communication between the hills and the valley, which was critical in meeting citizens' needs," said Mike Chard, Director of Boulder OEM. "We were able to coordinate air drops of resources via ham radio — it was an incredible effort."
The MERN was a project initiated by BCARES EC George Weber, KAØBSA, who recognized the communication gaps caused by fire damage to communication and commercial power infrastructure, and planned power outages. Cell phone coverage is spotty; the Internet and wireless services go down. The MERN, a network of 2-meter repeaters, was designed to bridge these gaps, and constructed thanks to the donations of Boulder area hams and other funds. The installation was performed by BCARES personnel.
Community leaders partnered with BCARES and its instructors and VEs taught licensing classes and administered the exams that yielded so many new licensees from the mountain community. BCARES members re-purposed older VHF radios, and gave them to each new licensee to use in weekly training nets. These new, local hams have since organized their own inter-mountain radio net; many have upgraded their licenses and radios. They recently formed their own ARRL affiliated club — Indian Peaks Radio Club — and installed their own repeater, used in conjunction with the original MERN system.
For the recent fire, these residents-hams of the mountains monitored their repeater, the MERN and BCARES ops at the Boulder County EOC, as well as local fire and police frequencies for up-to-the-minute situation reports on fire parameters, conditions, evacuations, road closures, and weather conditions. They relayed information to and from their area shelters and sent current assessments to Boulder County emergency officials. When the wildfire was upgraded, operators stayed on task.
BCARES recently incorporated the Everbridge System, an app provided to the group by its served agency and put into service for this wildfire. Everbridge sends messages to all BCARES members via telephone, text message and email, and allows emergency managers to track geotagged tweets that contain specific hashtags and use this information to respond to incidents as they occur. The app allowed members to respond to duty requests, allowing full staffing throughout the incident, and freeing the repeaters of these requests in favor of emergency communications.
In the US, the Boulder County ARES group stands out as a leader in public event, emergency and disaster communications technology and its use in diverse, major incidents. – Jack Ciaccia, WM0G, Colorado Section Manager
Amateur Radio Plays Critical Role in Mountain Rescue
Glenn Fowler, N5TDJ, of Allen, Texas, reported via Facebook that Amateur Radio served him well on August 4.
"We were on a treacherous Jeep trip up at about 13,000 feet with several other Jeeps in Colorado," he said in his post. "One person there from Texas had a heart attack. There was no cell phone service. I tried a few repeaters and the National Simplex Frequency and was amazed that no one was monitoring any of them. I kept trying and finally reached an ARES station on a Breckenridge linked repeater that took our GPS coordinates and dispatched an ambulance to meet us at the first place they could intercept the trail."
Fowler reports the individual who suffered the heart attack was hospitalized, "and, thankfully, he received lifesaving help from paramedics a lot sooner, due to ham radio."
An ARRL member, Fowler also belongs to the Plano Amateur Radio Club (K5PRK).
Amateur Radio Plays Key Role in Major FEMA Earthquake Disaster Exercise
Amateur Radio played a major role in meeting the objectives of the June 6-10 Cascadia Rising 2016 Federal Emergency Management Agency (FEMA) exercise in the Pacific Northwest. In the exercise scenario, a magnitude 9.0 earthquake and consequent tsunami has struck the Pacific Northwest, causing a blackout of all conventional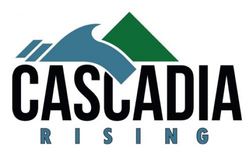 communication channels — a natural opening for Amateur Radio to step in. ARES/RACES organizations in Oregon and Washington were heavily involved, and ARRL Headquarters was also in the loop. Upward of 500 Amateur Radio volunteers in Washington, Oregon, and Idaho took part in the exercise. Success of the exercise depended in large part on Amateur Radio point-to-point communication.
"Amateur Radio operators not only provided communications continuity for Emergency Management Agencies, they worked with the Washington State Patrol, Washington State Guard, Washington National Guard, and the Federal Aviation Agency," ARRL Western Washington Section Manager Monte Simpson, AF7PQ, said in his Western Washington Section after-action report, released this week. Simpson is also Washington's State RACES Officer. He said radio amateurs supported approximately 32 city, county, state, tribal, and federal agencies during the event.
"We were able to support all our served agencies and clients," Simpson recounted. "Volunteers were able to provide communications support on location and during the planned participation period." He said US Amateur Radio responders established cross-border communication with the emergency operations center in Langley, British Columbia, which was holding its own province-wide exercise, Coastal Response.
"Overall, our objectives of being able to communicate with external agencies via voice and Winlink were achieved," Simpson said. "It was great to be able to participate in an exercise of this magnitude to get a feeling for what it would be like to have this many people trying to send and receive data. All of our operators felt this was very beneficial."
Simpson said that including Amateur Radio as "an actual functional part" of Cascadia Rising was a big plus, and that the participants felt they were "actually part of the team and not some auxiliary group that was being tolerated."
Among his recommendations, Simpson said there should be more standardization on language and forms, as well as coming up with a method of establishing contact with communities that lack communication if repeaters go down. He also advised that ARES and RACES teams exercise their equipment on a regular basis, to avoid unexpected outages and failures during a real-world event.
Pikes Peak ARES Provides Major Support to International Hill Climb
If this were a video, a baritone voiced announcer using an ominous tone and deliberate articulation would lead off the narration – "Over twelve miles long, with one hundred and fifty-six turns, and four thousand seven hundred and twenty feet in elevation gain . . ."
June 26, 2016, saw the 100th anniversary of the Pikes Peak (Colorado) International Hill Climb. First held in 1916, it is the second oldest motorsports event in the United States; only the Indianapolis 500 has been around longer and only by about 3 weeks. One hundred vehicles would make the race from the starting point at 9,390 feet above sea level to the 14,110 foot summit. That is, if they make it to the top – not all do. For many, a good run is under 10 minutes, though two made it in under 9 minutes this year.
The race would be impossible for organizers to conduct without an army of volunteers. Though the race occurs the same day as Field Day, members of Region 2, District 2 Colorado ARES were glad to once again support the Hill Climb, as we have done for years. Otherwise known as Pikes Peak ARES, Region 2 District 2 deployed 27 operators along the course to provide vehicle tracking, alternate communication, course status, weather observations, and other functions. One operator comes from Texas each year to support the race, while most of the others are locally based.
The radio calls start off slowly: "Start nine nine start," "roger, nine nine start." Once there are multiple vehicles on the course at the same time, the pace of radio communications and messages becomes lightning fast: "Eighteen-Mile, three nine Eighteen-Mile," "Devil's one zero Devil's," "Ragged one seven four Ragged", and the replies "roger, three nine at eighteen mile, one zero Devil's, and one seven four Ragged – there was a double, other station go." "Low Gear two seven stopped in the groove above Low Gear," and the reply "copy two seven in the groove above Low Gear." "Liaison," "Liaison go," "Course is red, Liaison," "Control copies course is red." That entire exchange would consume only 20-25 seconds! Such exchanges can run together very long stretches of time unless something happens to stop vehicles. The pace is so fast that only tactical calls are used with FCC i-d's announced every ten minutes to stay legal.
With vehicles launching from the starting line as frequently as every 60 seconds, this is not an event for a novice operator; it calls for strict net discipline, use of very specific terminology, being able to pick out hard to read vehicle numbers as they go past at speeds of over 100 mph, noticing if something is amiss with a vehicle like a leak, loss of power, etc, and being ready to quickly adapt from normal race pace to a full-on emergency in seconds. Led by veteran race operators Don Johnson, K0DRJ, at Net Control, Al Glock, KC0PRM, at Liaison with race officials, and Dan Martin, KD0SMP, as the Mission Coordinator, the team handles many hundreds of calls during the event. Listening to K0DRJ work, one imagines an operator with four hands – he is not unlike those operators who can keep ten calls in their head as they work a contest pile-up.
When a racer slammed into a guard rail and needed to be helicoptered off the course, the ability to get the initial report to race officials and to maintain control of the net was a testament to the skills of all the operators, especially the reporting station and the three leadership positions. This can very easily be a life or death situation; in 2014 a racer crashed and died during the race and in 2015 a racer crashed and died during a practice run. In 2013, a vehicle rolled and flipped about 12 times in a non-fatal incident. The amateur radio operators also were the first to notice debris and fluid on the course, alerting Race Safety officials who closed the course until the hazard could be cleared. There were no fatalities this year and the racer who was evacuated appears to be doing better at this writing.
Weather on "America's Mountain" can be temperamental. It can be 70+ degrees down at the start line and 40 degrees at the summit. Even though it was the end of June, the start of the race was delayed as snow and snow melt was cleared from the top of the course. Afternoon storms can build up quickly, dumping rain, hail, and snow on an area in minutes. Lightning is always a concern, especially above tree line and at Devil's Playground, so named because of the propensity for
lightning to jump from rock to rock. In 2015, six people in a car were struck by lightning just hours after the racer fatality during practice. As the clouds began to build up, the weather spotting skills of Pikes Peak ARES operators came in to play. With just a few racers left to go, snow pellets, rain, and hail began to fall and while the precipitation was nowhere near the reportable conditions for the National Weather Service, it was a huge concern for the racers.
Last year a storm cell moved in during the race and dumped so much hail that the snow plows could not get the road cleared and the race was shortened to only six miles. This year, the only car to not go to the summit due to weather was an exhibition vehicle driven by a quadriplegic, which stopped half way up.
The Pikes Peak International Hill Climb makes for a long day – getting in queue at the gates at midnight to head up the mountain at 2 AM, finding positions in the dark, being completely self-sufficient for the duration, and not coming down until after the downhill parade of race and support vehicles are past -making it back through the gates to the mountain about 17 hours after heading up. This, while tens of thousands of operators around the rest of the country enjoy Field Day festivities. The mountain and Colorado weather often throw curveballs at us. Spectators often do things they are not supposed to. Racers crash and vehicles break.
Through it all, Pikes Peak ARES and associated amateur radio operators perform magnificently, providing a vital volunteer service year after year. We were excited to be a part of the 100th anniversary of such a prestigious event and look forward to next year! – John Bloodgood, KD0SFY, Emergency Coordinator, Region 2, District 2, Colorado ARES (Pikes Peak ARES)
K1CE For a Final
Have a fun and safe Field Day!
ARRL Field Day remains the mother of all emergency/disaster/public event training exercises. Miss it at great expense to your annual training regimen. It's in two weeks! It is always held annually on the fourth weekend of June – this year, June 25-26.
ARRL Field Day is the most popular (and in my opinion, the most fun) on-the-air event held annually in the US and Canada. More than 35,000 radio amateurs gather with their clubs, ARES groups or simply with friends to operate from remote locations, ideally outdoors in a true field somewhere.
The experience and training gained from transporting your radios and antennas to the field, setting them up, using them as you would in an emergency/disaster/public event, troubleshooting problems, deriving efficiencies and effectiveness, and learning lessons and fixes to be applied for the next time, are arguably more valuable than any other training exercise, class or manual.
Activate for this month's Field Day and make yourself a better public service field operator for yourself, your ARES member-teamates, and the public safety agencies and public event organizers and managers we work with during the rest of the year.
I'll be operating Field Day with Eliot Mayer, W1MJ, from the summits of the beautiful and rugged White Mountains of New Hampshire, on emergency power, of course! Look for W1MJ and give us a contact! I hope all readers have a great Field Day, the mother of all emergency/disaster preparedness training exercises! — 73, Rick Palm, K1CE, Daytona Beach, Florida
Before Deployment: Personal, Family Safety First
Prepare yourself and your family to ensure their safety and the protection of your property well in advance of any possible activation; you may be required to report to your assignment immediately without being able to stop at home first. Here are a few things to keep in mind:
· Your family needs at least three days of non-refrigerated food and bottled water available.
· Have a medical kit available and make sure your family knows how to use it.
· Have fire extinguishers at home; make sure your family knows how to use them.
· Make your family aware of escape routes from the immediate area. Give them a map.
· Pre-designate a place for them to go: a friend's house or alternate agreed-upon meeting place.
· Have phone numbers in your wallet/purse for your family's alternate shelter(s).
· Have alternate means of communication should cell/landline phone systems be down.
· Consider registering with the Red Cross's Safe and Well service.
· Keep valuable documents in a safe place or take them with you.
· Have cash on hand for you and your family as ATMs will likely be down.
These are just a few ideas; there are many more. Study FEMA's Ready website for more. The above list was adapted from the Department of Homeland Security – Office of Emergency Communications – excellent reference guide Auxiliary Communications Field Operations Guide (AUXFOG).
Early Reports from Pacific Northwest Cascadia
Rising Earthquake/Tsunami Exercise: Major Exercise, Major
Success
The largest FEMA exercise of the year, a 9.0 magnitude earthquake along the Cascadia Subduction Zone (CSZ) and the resulting tsunami was the scenario posed to emergency management, public safety and ARES/RACES officials and volunteers in the Pacific Northwest, June 7 to 10. Cascadia Rising has just concluded with a large showing by amateur operators, and after action reports are just starting to roll in. Emergency Operations and Coordination Centers (EOC/ECCs) at all levels of government and the private sector were activated for this major effort.
Members of the Island County Amateur Radio Club (W7AVM) on
Whidbey Island, Washington, coordinated with local emergency officials and facilitated the flow of radio message traffic from their homes, emergency operations centers and field shelter sites during the four-day, multi-state exercise.
The local exercise scenario called for a temporary breakdown of commercial communications facilities, creating an urgent need for amateur radio point-to-point communications. Members also hoisted antennas and forwarded Red Cross message traffic via voice and packet from a field triage site located in a community church on the island.
The exercise activities scattered throughout Whidbey created keen interest from the public about the value of ham radio operators to bridge the communications gap immediately following any disaster. — Vince Bond, K7NA, Island County Amateur Radio Club PIO
Andrew Phelps, Director of the Oregon Office of Emergency Management, said "Thanks to our amateur radio partners and Oregon ARES/RACES for your participation! Vital to our success!" (from John Core, KX7YT, ARRL Oregon Section Manager).
Bruce Bjerke, K7BHB, Oregon Section Emergency Coordinator, Oregon ARES/RACES, reported that immediately following the exercise on June 10 during the hot wash with FEMA and the Oregon Office of Emergency Management staff, State Communications Officer Terry Pietras, W7JOC, introduced the ARES/RACES members of the State Amateur Radio Unit, highlighted their contributions, and stressed that they are all volunteers having contributed hundreds of hours in training and preparation for the exercise. Pietras also recognized the importance and performance of the county ARES/RACES units throughout the state. Earlier, the Director of the Oregon Office of Emergency Management, Andrew Phelps, KI7SIY, visited the radio room to personally thank operators.
Bjerke said "we operated the FEMA National Radio System (FNARS), HF SHARES, 60 Meter Interoperability Net, FEMA VTAC, CAP radio, four VHF Regional Repeaters, the Winlink station, and the HF Net." One hour after the "ground shook" at the beginning of the exercise June 7, more than 45 ARES/RACES stations lit up the State ARES/RACES HF Net. Thirteen county EOC stations had been activated for the first day of play, and as many more became operational for situational awareness. Over the course of the next three days, more than 22 county units would activate and operate for periods of from one to all four days.
Around the state, the activated county ARES/RACES units passed more than 300 Winlink and ICS-213 voice messages during scripted communications outages. Many other ARES/RACES units in other counties created their own local test elements, partnering with hospitals, the Red Cross, and other responders to realistically train for anticipated challenges.
Oregon Section ARES/RACES members trained hard and realistically for more than two years to prepare for this exercise. "Our last two SET'S were particularly arduous," said Bjerke. "We asked our county units to operate for 24 hours, from Continuity of Operations Plan (COOP) locations/trailers, and with emergency power only." "We scripted out mountaintop repeaters, existing fixed-site antennas, and allowed HF Winlink operation only," said Bjerke. In the end, our training protocols proved to be more demanding than the actual exercise, but we were ready to excel at anything they threw at us, and a great performance was the result." (Thanks, Bruce Bjerke, K7BHB, Oregon Section Emergency Coordinator)
Preparing for Wildfires
A wildfire is an unplanned, unwanted fire burning in a natural area, such as a forest, grassland, or prairie. There's a misconception that wildfires only happen in western and the Great Plains states. While wildfires are more common in certain states, they can occur anywhere in the country. In addition, homes and business are more susceptible to wildfires as building development expands into once forested areas. This is called the wildland urban interface, and this interaction can put individuals at risk for exposure to wildfire. To help reduce the chance of wildfire, the America's PrepareAthon! How to Prepare for a Wildfire guide calls on everyone to practice fire prevention, such as learning terms relevant to wildfire communication that are used by the National Weather Service:
Fire Weather Watch: Potentially dangerous fire weather conditions are possible over the next 12 to 72 hours.
Fire Weather/Red Flag Warning: Fire danger exists and weather patterns that support wildfires are either occurring or expected to occur within 24 hours. (Your community may also use the National Fire Danger Rating System to provide a daily estimate of the fire danger [i.e., low, moderate, high, very high, and extreme]).
Evacuation Notice: Local authorities may issue an evacuation notice to alert residents that a fire is nearby and it is important to leave the area. When authorities issue a mandatory evacuation notice, leave the area as soon as possible.
More here, from FEMA. Please also see "Wildfire Communications: Fog and Friction", pp. 85-86, February 2014 QST, for education and training references on safety and providing amateur service communications for responding agencies and public safety.
FEMA Bulletin: Learn to Protect Yourself in a Tornado Situation
Plan ahead! Your primary goal is to go to the safest place for protection before the tornado approaches and take additional measures for personal cover. If a tornado warning is issued, immediately move to the best available protection.
Having advance notice that a tornado is approaching your area can give you the critical time needed to move to a place with better protection. The best protection in all tornadoes is to seek shelter in a structure built to FEMA safe room or International Code 500 storm shelter standards.
If you're unable to get to a safe room during a tornado, move to an interior windowless room on the lowest level of a building, preferably the basement. Take personal cover under sturdy furniture such as a table. Cover your head and neck with your arms and place a blanket or coat over your body.
The America's PrepareAthon! How to Prepare for a Tornado guide provides preparedness tips if you live, work, or travel through an area that is susceptible to tornadoes:
Know how to stay informed, including monitoring weather reports provided by your local media;
Consider buying a National Oceanic Atmospheric Administration Weather Radio All Hazards receiver, which receives broadcast alerts directly from the National Weather Service and offers warnings, watches, forecasts, and other hazard information 24 hours a day, 7 days a week;
Download the FEMA mobile application for disaster resources, weather alerts, and safety tips;
Know where you would go to have the best level of protection from a tornado for every place you spend a lot of time, such as home, work, school, or place of worship;
Practice how you will communicate with your family members in case you're not together during a tornado; complete the Family Emergency Communication Plan;
Store at least a 3-day supply of food, water, medications, and items you may need after the tornado passes; and
Store the important documents on a USB flash drive or in a waterproof container that you will need to start your recovery.
Some locations don't provide protection from tornadoes, including: manufactured (mobile) homes/offices, the open space of open-plan buildings (e.g., malls, big retail stores, and gymnasiums), vehicles, and the outdoors. An alternative shelter should be identified prior to a tornado watch or warning.
You can find additional resources online, including a tornado checklist that provides guidance on what steps to take before and after a tornado. — FEMA
Ohio ARES® Helps in Water Problem
Flint, Michigan, isn't the only area with water problems due to high lead content. Starting the week of January 18, approximately 8,100 customers of Sebring, Ohio, water were notified that they too had problems with high lead content in their drinking water. On January 22, both Ohio and Mahoning County Emergency Management Agencies began passing out bottled water in Sebring. Mahoning County ARES® Emergency Coordinator Wes Boyd, W8IZC, activated ARES® to assist. Response on the workday was low, but a handful of ARES® volunteers was able to respond. According to Boyd, "EMA and Red Cross were overjoyed that radio operators came to work not needing a radio." ARES® volunteers joined others in moving and distributing water supplies. Another call was out for the weekend, where more water was to be distributed.
This is a perfect example of being ready to serve in whatever capacity we can, in order to help our communities. Sometimes it doesn't involve only operating a radio. – Stan Broadway, N8BHL, Section Emergency Coordinator, Ohio
Tips: Public Safety Tools — Excellent Resources for ARES
The US Department of Homeland Security's Office of Emergency Communications' Interoperable Communications Technical Assistance Program publishes a repository of numerous resources for auxiliary emergency communicators. Most are of direct interest to ARES/RACES and other amateur emergency communication groups, including the new Auxiliary Communications Field Operations Guide (AuxFOG). The pub is a reference for auxiliary communicators who directly support backup emergency communications for State/local public safety entities or for an amateur radio organization supporting public safety. This reference guide contains information about AuxComm best practices, frequently used radio frequencies, Mutual Aid channels as well as tips and suggestions about auxiliary emergency communicators integrating into a NIMS ICS environment to support communications for planned events or incidents. It can serve as a reference both for auxiliary emergency communicators and public safety communications professionals. — K1CE
ARRL Signs New Memorandum of Understanding with the American Red Cross
The ARRL and the American Red Cross have signed a new Memorandum of Understanding (MoU). The document, signed in January, succeeds the one agreed to in 2010; it will remain in place for the next 5 years. The MoU spells out how League Amateur Radio Emergency Service (ARES) volunteers will interface with the Red Cross in the event that ARES teams are asked by the Red Cross to assist in a disaster or emergency response.
"Whenever there is a disaster requiring the use of Amateur Radio communications resources and/or facilities, the local Red Cross region or chapter may request the assistance of the local ARES organization responsible for the jurisdiction of the scene of the disaster," the MoU provides. Such assistance would include mobilization of ARES personnel in accordance with a prearranged plan, and the establishment of communication as necessary during a disaster or emergency.
Generally, the MoU sets the parameters of the partnership between the ARRL and the Red Cross to provide assistance to communities affected by disasters. It calls upon both organizations to encourage and maintain open lines of communication at the state and local levels, sharing current data regarding disasters, situational and operational reports, changes in policy or personnel, and any information pertaining to disaster preparedness, response, and recovery.
For its part, the League will encourage ARES units to engage in discussions with local Red Cross entities to develop plans for local response or disaster relief operations. The Red Cross will encourage its field units to engage in discussions with the ARRL Field Organization to develop plans for local response or disaster relief.
Facilitating this is a Statement of Cooperation to provide methods of cooperation between the two organizations on the local level in providing services to communities during or after a disaster event, "as well as other services for which cooperation may be mutually beneficial." The ARRL signatory is either the appropriate ARRL Section Manager or Section Emergency Coordinator.
The new MoU also clarifies that ARES volunteers assisting the Red Cross but not registered as Red Cross volunteers do not have to undergo a prior background check. Radio amateurs who register as Red Cross volunteers, though, must abide by the Red Cross's background check requirement. Read more.
ARES Volunteers Support Major Flood Responses
Amateur Radio operators put their skills to work during flooding in the Centralia area of Southwest Washington and during historic flooding in the Greater St Louis, Missouri, area in December and January. In Missour,i ARES® volunteers from three counties pitched in. Bill Grimsbo, N0PNP, Missouri District C Emergency Coordinator, said Amateur Radio volunteers worked with responding agencies.
Prolonged rain occurred December 26-28, with the heaviest rainfall in a 50- to 75-mile wide swath from Southwest Missouri through the St Louis Metropolitan area and into Central Illinois. The total 6 to 12 inches of rainfall led to life-threatening flash flooding and historic river flooding, capping off the wettest year on record for St Louis at 61.24 inches.
More than 2 dozen radio amateurs from St Louis Metro ARES, St Charles County ARES, Illinois Section ARES, and St Louis and suburban radio club members worked with the American Red Cross in serving some 19,400 meals and coordinating more than 640 overnight stays for those displaced by flooding. ARES and club operators were asked to help coordinate communications among shelters in four counties and Red Cross headquarters. On average, volunteers worked 6 to 8 hour shifts, employing repeaters maintained by area radio clubs.
St Charles County Division of Emergency Management also called on ARES to conduct road closure reconnaissance for emergency services. Volunteers also performed "windshield" damage assessments, where they drove by hundreds of homes, surveying for damage.
St Francois and Ste Genevieve County ARES worked together to assist Ste Genevieve County emergency managers with 24-hour walks to assess the condition of the critical levees that protect lives and property in that county.
More than 20 people died in the historic flooding. Hundreds were displaced from their homes as rivers, streams, and lakes overflowed banks and levees.
In the Pacific Northwest, the Centralia area of Southwest Washington again found itself on Mother Nature's target list for December rain and local flooding, and Amateur Radio volunteers were called in to help. The region saw nearly continuous rain during the first week in December, with especially heavy rainfall on December 7. As a result, three major rivers — the Chehalis, the Skookumchuck, and the Newaukum — quickly reached flood stage. The Centralia ARES team activated on a 24-hour basis on December 8, monitoring EOC Amateur Radio systems and helping to set up the remainder of the EOC for a full-scale response.
On December 9, two local creeks — China and Salzer — overflowed their banks and inundated Centralia's downtown district, before the major rivers had reached flood stage. ARES team members began a second response phase, performing "windshield" surveys to determine the extent and depth of water in each residential area. Team members also monitored selected high-water points to provide "eyes-on-the-scene" observations of how rapidly flood waters were rising. Throughout the day, hams reported conditions — block by block, response area by response area — to the EOC and incident commanders.
By late on December 8, even though rivers were still reaching flood stage, emergency managers could breathe a sigh of relief, as it became clear that the local flooding was not going to be on the order of an earlier disaster that closed Interstate 5 for several days. Several dangerous landslides did occur, though, and a stretch of Highway 12 was closed due to washouts. The ARES team deployed 75 members. Read more. — Thanks to Janelle Haible, N0MTI, St Louis (Missouri) Metro ARES Public Information Officer, and to Bob Willey, KD7OWN, Emergency Coordinator, Centralia Amateur Radio Emergency Service
GlobalSET 2015 is a Wrap, with Lessons Learned
More than three dozen countries took part in the 2015 Global Simulated Emergency Test (GlobalSET) last month, organized by IARU Region 1 and designed in part to measure the disaster readiness of Amateur Radio. IARU Region 1 Emergency Communications Coordinator Greg Mossop, G0DUB, pointed out that the 2015 event differed from other GlobalSETs held since 2006, which emphasized message handling and setting up stations in the field.
"The IARU emergency communications coordinators decided that the best way to achieve this would be to have an availability or 'call-out' exercise," Mossop said. "It asked all countries with emergency communications groups to contact their members and ask them how quickly they could get on the air if required." The start of the exercise was not announced in advance but propagated via a variety of channels, including e-mail and social media. IARU regional coordinators chose December 18 as being clear of most social and cultural events. A time limit of up to 48 hours was set for potential responding organizations to complete the local callout exercise and submit results via a web form.
The survey results covered an estimated 8466 members worldwide, of which 2048 reported they could be available in less than 1 hour.
"This exercise occurred on a normal business day in many countries," Mossop said. "An availability rate of 20-30 percent of stations is very good and does seem reasonable as a planning assumption for future exercises."
Mossop said the exercise identified a need to revise or improve alerting procedures. "Where possible a mixture of methods should be used for alerting members with automatic feedback of message delivery or the response," he said, adding that reliance on any single system, such as e-mail, was not the best approach. Read more. — Thanks to Jim Linton, VK3PC; ARRL Letter
Answering The Call To Serve In Historic Missouri Flooding
Amateur Radio operators put their skills to work during historic flooding in the greater St. Louis area earlier this month. ARES® volunteers from three counties contributed extensive time, talent and equipment to emergency efforts. According to Bill Grimsbo, N0PNP, District C Emergency Coordinator, "More than one hundred and seventy hours of volunteer service on the part of Amateur Radio volunteers working with response agencies were invested in District C during this emergency. These people commit their personal time as well as working regular hours at jobs that represent a cross section of America's workforce for the greater good of the community."
[According to the National Weather Service, a prolonged period of rainfall occurred from December 26 to December 28, with the heaviest rainfall occurring in a 50 to 75 mile wide swath from southwest Missouri through the Greater St. Louis Metropolitan area and into central Illinois. Storm total rainfall for this range was six to 12 inches. The heavy rainfall led to life threatening flash flooding and historic river flooding. The rain in this event capped off the wettest year on record for St. Louis at 61.24″. (The old record was 57.96″ in 2008). – ed.]
More than 26 radio amateurs from St. Louis Metro ARES, St. Charles County ARES, Illinois Section ARES, and St. Louis and suburban radio club members worked with the American Red Cross in serving in excess of 19,400 meals and coordinating more than 640 overnight stays. ARES and club operators were asked to help coordinate communications among shelters in four counties and Red Cross headquarters. On average, the volunteers worked six to eight hour shifts using personal radio equipment while employing local repeaters maintained by area radio clubs to pass messages. They worked with shelter staff to fulfill the needs of hundreds displaced by severe flooding in the St. Louis area.
Much of the radio traffic was handled on a repeater maintained by the Monsanto Amateur Radio Association, a repeater that had been damaged by a lightning strike in August. Repairs were completed just weeks prior to the onset of flooding in the area.
"The Amateur Radio operators in the greater St. Louis area have
knowledge and equipment to connect any agency to another when in times of need," Steve Wooten, KC0QMU, St. Louis Metro ARES Emergency Coordinator said. "We can set up and be connected within an hour of responding to the call for assistance."
St. Charles County Division of Emergency Management also called on ARES in that county to execute road closure reconnaissance for emergency services. Volunteers also performed "windshield" damage assessments where they drove by hundreds of homes, surveying them for minor to catastrophic damage.
In a demonstration of solidarity in this disaster, St. Francois and Ste. Genevieve County ARES organizations worked together, assisting the Ste. Genevieve County Emergency Management Agency with 24 hour walks to assess the condition of the critical levees that protect lives and property in Ste. Genevieve County.
More than 20 people died in the historic flooding. Hundreds were displaced from their homes as rivers, streams and lakes overflowed banks and levees. Wastewater treatment facilities were overwhelmed and some drinking water treatment facilities were shut down. President Obama issued a Federal Disaster Declaration and the Federal Highway Administration pledged $1 million for emergency highway repairs. — Janelle Haible, N0MTI, St. Louis (Missouri) Metro ARES, Public Information Officer
ARES® Supports Major Flood Response in Pacific Northwest
Once again, the Centralia area in southwest Washington State was on Mother Nature's target list for December rains and local flooding. The week of December 2-8 brought continuous rain to the Pacific Northwest with very heavy rains on Monday, December 7th. Three major rivers — the Chehalis, the Skookumchuck and the Newaukum — quickly reached flood stage. The City of Centralia opened its Emergency Operations Center (EOC) on Tuesday, December 9, to get ahead of the potentially devastating flood waters. By 5 PM Tuesday, the Centralia ARES team was activated on a 24 hour basis. During hours of darkness, team members monitored the EOC Amateur Radio systems and helped set up the remainder of the EOC for a full scale response on Wednesday.
During the early morning hours of Wednesday, December 9th, two local creeks — China Creek and Salzer Creek — overflowed their banks and inundated the Centralia downtown area with water, before the major rivers had reached flood stage. As a result of the Incident Action Plan issued at 8 AM Wednesday, ARES team
members began the second phase of their response duties, performing "windshield surveys" to determine the extent and depth of water in each residential area in the city. Additionally, teams monitored selected high water points to provide eyes on the scene information on how fast flood waters were rising. Throughout the day, hams reported conditions block by block, response area by response area to the EOC and Incident Commanders.
Late in the day on Wednesday, the area caught a break when the rains slowed and then stopped. By late Wednesday evening, even though the rivers were still climbing to flood stage, emergency managers could breathe a sigh of relief as it was clear the local flooding was not going to be the disaster we've experienced before when Interstate 5 was closed for days due to water over its roadway. Area wide, several dangerous landslides occurred and the Hwy 12 over White Pass to Eastern Washington was closed as the road was washed away in four locations. This pass will potentially remain closed for weeks or even months as snow on the pass hinders roadway repairs.
In all, the ARES team deployed 75% of its members totaling just over 70 volunteer hours for the community. Each flood is different from the last. Centralia ARES has worked through four major floods since 2007 and with localized flooding almost every November or December. The ARES team continues to refine its response techniques, drill on flood responses and work with its served agencies to shape the way it provides disaster information to the EOC. Flexibility has allowed the ARES team to be useful in several different directions as we continue to serve our small community. — Bob Willey, KD7OWN, Emergency Coordinator, Centralia Amateur Radio Emergency Service
Pennsylvania Amateurs Support FEMA Emergency Management Course Exercise
Over the last three years the South Central (Pennsylvania) Task Force Amateur Radio Working Group (SCTF-ARWG) has provided radio communications support for the Integrated Emergency Management Course (IEMC) held at the FEMA Emergency Management Institute (EMI) campus in Emmitsburg, Maryland. The ARWG is a cooperative organization of Amateur Radio groups and individuals involved with emergency communications in the eight county region of Pennsylvania. The group, through its Hospital Emergency Amateur Radio Service (HEARS), also supports emergency communications functions for healthcare facilities in the region. It is charged with coordinating activities and interoperability among Amateur Radio communication assets and organizations. The ARWG participates with ARES® and the Radio Amateur Civil Emergency Service (RACES).
"For the IEMC exercise portion, we typically have a voice/data VHF/UHF station in the IEMC's sim cell and each of the simulated EOCs," reports ARWG chairman Don Schmitt, K3DCS. "Our task is to pass exercise injects and handle response messages during a simulated total outage of EOC power, telephone and public safety communications." "Messages are passed using both voice and data modes (fldigi) over amateur service frequencies."
The SCTF-ARWG communications team has participated in this FEMA program with visiting emergency managers and personnel from counties and cities in Florida, Utah and Alabama. "Our team is requested to assist when the visiting emergency management agency (EMA) has a RACES, ARES or ACS group integrated with their
staff representatives," said Schmitt. Recently, when a Calhoun County, Alabama EMA brought ARES members along to support exercise communications at the simulated EOCs, members of the ARWG team who are also ARES members (from Adams and York counties, Pennsylvania) assisted them. Pennsylvania state EMA (PEMA) ACS Coordinator Susan Singer, KB3KDC, observes and participates with the SCTF-ARWG team.
"Our ARWG communications team is honored to be asked to regularly support FEMA EMI with the IEMC program," Schmitt said. "Over the years of participation the team has learned a lot working with FEMA EMI staff and each of the participating county/city agencies. The hot wash report from FEMA EMI continually gives high marks to the Amateur Radio group. Frequently, participating EMA groups state that they didn't fully realize how valuable Amateur Radio could be to their emergency operations and planning." – [Don Schmitt, K3DCS, is chairman, Pennsylvania SCTF-Amateur Radio Working Group, Auxiliary Communications Officer, Adams County Department of Emergency Services; and ARRL ARES Emergency Coordinator, Adams County, PA]
Western Washington Amateurs Activated for Landslide
In the afternoon of Wednesday, December 9th, the northbound lanes of Interstate 5, a major transportation route along the West coast, were blocked by a landslide at mile post 23, just north of Woodland, Washington. Boulders the size of small trucks, mud, and trees invaded all three traffic lanes. Mother Nature did an excellent job of picking a slide location that would create the most chaos as there are no alternate routes in the area, and another slide blocked US Hwy 30 just across the Columbia River in Oregon.
Woodland, a tiny community of less than 5,800 residents located at the southern tip of Cowlitz County, was inundated by thousands of unexpected cars and trucks taking exits 21 and 22. Emergency Coordinator Randy Greeley, NU7D put out a heads up email on Wednesday evening, and the Cowlitz County Department of Emergency Management, led by professional Emergency Manager Ernie Schnabler, KB7YPU, activated the ARES portion of its ACS volunteer group on Thursday morning, December 10th.
Handling the coordination at Woodland was the Mayor of Woodland, Grover Laseke, KG7O, and Clark County ARES Team 1 Leader Randy Walter, K7LNR. Two shelters were opened for motorists, one by the Red Cross at Grace Community Church on the east side of the freeway, and one at Woodland High School on the west side of the freeway. Walter reported that "Woodland High School canceled school for the day and opened its facilities to stranded travelers with support from its staff." Both shelters, Woodland City Hall, and the Washington State Department of Transportation (at the scene of the slide) were supported by Amateur Radio communications.
Two VHF repeaters owned by the Lower Columbia Amateur Radio Association were used to facilitate the amateur response. The City of Woodland produced two sets of situation update flyers for posting at local businesses on both sides of the freeway, and the second set was distributed by Dave Bunch, KF7MJQ, and Walter. Other radio amateurs providing communications assistance to the Woodland landslide incident were Bill Czarnecki, KF7ZAT, Carl Gray, K7ECW, Cecil Woolfe, KE7UAN, Colleen Greeley, KB7AYY, Darin Hokanson, KD7TJR, Gordon Spalding, WA6TTR, Jeff Edgecomb, KB7PMO, Jeff Hillendahl, KJ6ETR, Kie Ludwig, KD7UQR, Phil Vanderschaegen, KF7SJK, Ray Blanke, KC7MRM, and Stan Mourning, KF7CVR.
One element of the response that could have been improved from the perspective of the stranded motorists was the (non-amateur) communications between Washington and Oregon. Because of the slides on two parallel north-south highways at the same time, northbound motorists on US Hwy 30 in Oregon were redirected to I-5 in Washington, and northbound motorists on I-5 in Washington were redirected to US Hwy 30 in Oregon.
Two of the three lanes of northbound I-5 were re-opened in the evening on Thursday, December 10th, after a closure of approximately 28 hours, and the Amateur Radio communications support teams were released. Radio amateurs contributed 163.5 hours and drove 368 miles. — Steve Aberle, WA7PTM, ARRL Official Emergency Station (OES), ARRL Western Washington Section
Bio Shield 2015: Martin County (Florida) ARES Drills on Biological Attack
"This is a drill, this is only a drill," began Martin County (Florida) ARES' participation in BioShield2015, an exercise that saw teams from the Florida Department of Health in Martin County and local, state and federal partners involved in a preparedness drill to test emergency response. The exercise was held November 3-4, following an air show, which also had ARES participation, in Stuart, a small town on the lower east coast of the Florida peninsula.
Soon after the air show ended and pursuant to the exercise scenario, a body was found in a remote airport hangar. According to the scenario, it was determined that the victim had died from the effects of a biological weapon. Other "victims" in the area were showing signs of distress. Thus began the coordinated emergency training drill for Martin County, a three day preplanned exercise for training on, containment of, and otherwise dealing with biologic threats. The drill also involved fire departments, other first responders, police and helicopter support.
The Department of Homeland Security (DHS) oversaw the operation. The Federal Bureau of Investigation (FBI) also participated. Martin County ARES assisted with simulated emergency communications.
The county fairground was designated as an area for responders to rest, eat and observe the progress of the event. The local American Red Cross facility was staffed by an ARES team, and operators were involved with scenarios involving food, water and bedding distribution there. ARES members were also tasked with coordinating delivery of food, ice and supplies to the fairgrounds for first responders.
Participating in Bio Shield 2015 was a first for the Martin County ARES group – their simulated emergency tests are typically based on hurricane situations. The ARES team fielded 17 operators for the county wide biological threat training drill.
For information on Bio Shield 2015, please see the following videos:
https://www.youtube.com/watch?v=9bmjQN5pR4g
https://www.youtube.com/watch?v=ks2cQ5ka6g8
________________________
The exercise followed the Stuart Air Show, held on October 30 – November 1, with the Martin County Amateur Radio Association and ARES participating. 50,000 attended this year's event. The air show features reenactments of World War II battles, with paratroopers dropping on to the main display area. The Martin County ARA and ARES operators set up a tri-band antenna on a tower trailer, with the tower raised to 45 feet. Contacts were made with stations around the country and the globe. A special event call sign was employed: N4A –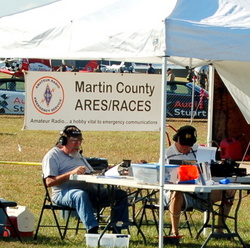 phonetics were "November 4 America."
QSOs were sometimes difficult to make over the din of a Boeing F-18 supersonic fighter jet passing 200 feet overhead at 650 mph, with simulated gunfire. For members of the Amateur Radio team, this event is the operating highlight of the year. Members hand out ARRL promotional material and information on licensing. This year was the club's best for contacts made: 1070. Events such as the air show and Bio Shield help prepare Martin County radio amateurs for operation in the field when real emergencies and disasters occur. — Gary Webster, K4GMW, Jensen Beach, Florida
[From Ready.gov, biological agents are organisms or toxins that can kill or incapacitate people, livestock and crops. A biological attack is the deliberate release of germs or other biological substances that can make you sick. The three basic groups of biological agents that would likely be used as weapons are bacteria, viruses and toxins. Most biological agents are difficult to grow and maintain. Many break down quickly when exposed to sunlight and other environmental factors, while others, such as anthrax spores, are very long lived. Biological agents can be dispersed by spraying them into the air, by infecting animals that carry the disease to humans and by contaminating food and water. Delivery methods include: aerosols, animals, food and water contamination, and person-to-person. Specific information on biological agents is available through the Centers for Disease Control and Prevention. – ed.]
Hurricane Watch Net Keeping Tabs on Joaquin
It's been a quiet season so far for the Hurricane Watch Net (HWN), but Hurricane Joaquin, now a Category 3 storm, has been keeping net members busy this week. Joaquin hit the Bahamas on September 30, with maximum sustained winds of 120 MPH. After initially activating on September 30 at 1500 UTC on 14.325 MHz, the net took a break on October 1 at 0445 UTC, as conditions deteriorated on its nighttime frequency of 7.268 MHz. The HWN resumed operation a few hours later on 20 meters at Alert Level 5 — Catastrophic Response Mode. WX4NHC at the National Hurricane Center (NHC) also activated on October 1.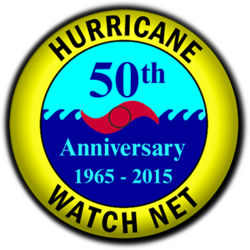 "This storm has gotten huge and very ugly," HWN Manager Bobby Graves, KB5HAV, told ARRL on October 1. Residents along the US East Coast should closely monitor the progress of Joaquin."
The NHC said Joaquin would batter the Central Bahamas with hurricane-force winds and heavy rain and storm surges into the evening of October 1. The storm was expected to generate rainfall totals of 10 to 15 inches over the central Bahamas. The NHC has predicted that Joaquin would turn toward the west-northwest late on October 1, followed by a turn to the north and an increase in forward speed on October 2.
The 5-day projection for Hurricane Joaquin would place the storm off the coast of North Carolina as early as October 4 and headed toward Southern New England. States of emergency already are in effect in Virginia and New Jersey, but it's still unclear whether the storm will make landfall or remain offshore. Some ARES units are already preparing for possible activation.
During HWN activations, the net control station requests measured/observed "ground-truth" data from stations in the affected area. The HWN is available to provide backup communication to official agencies, such as emergency operations centers and Red Cross officials in the affected area. The net also will gather and report to FEMA officials in the NHC any information on significant damage. Stations should not check into the net unless specifically requested to do so.
The NHC said swells generated by Joaquin will affect portions of the Bahamas over the next few days and will start affecting portions of Florida's eastern coast and the US southeast coast by October 2. "These swells are likely to cause life-threatening surf and rip current conditions," the NHC predicted.
"We're monitoring the situation and the forecasts regularly. Like most, we're waiting to see which way the storm will go," ARRL Emergency Preparedness Manager Mike Corey, KI1U, told the ARRL Field Organization leadership in areas that could be affected by Joaquin. "ARRL Headquarters will be in touch with our National Voluntary Organizations Active in Disaster (VOAD), FEMA, and NHC as things develop."
Visit the HWN website for the latest information on this storm and HWN activation plans.
ARES/RACES Volunteers Activate for California Wildfires
Radio amateurs responded to the ongoing wildfire emergency in California. Earlier this month, ARES volunteers in Amador County supported communications at a Red Cross shelter at the Jackson Rancheria Conference Center, which has been housing evacuees from the Butte wildfire in Northern California.
ARES/Auxiliary Communications Service (ACS) volunteers were called out late on September 9. Amador County ARES Emergency Coordinator Daniel Edwards, KJ6WYW, had communications set up at the shelter by midnight and began contacting other ARES members and scheduling operators to work the shelter station 24 hours a day.
During the activation, members of Yolo County and Sacramento County ARES spelled the Amador County operators at the shelter. "This gave the Amador County members a break and for some time off to help their neighbors evacuate their positions," Sacramento Valley Section District 3 EC Greg Kruckewitt, KG6SJT, told ARRL.
Edwards said 20 operators took part in the activation, with two operators per shift. The station at the shelter was active for 120 hours.
Bill Gustavson, K6BIL, who took part in the Amador County ARES response, said that at one point, with cell phone, Internet, television, and landline down, "my only source of information was ham radio. The radio was the only outside link to the world." He also said he was amazed to learn how many nonhams listen on scanners.
As some roads in the area reopened and evacuees were able to return home, Amador County ARES was released from supporting Red Cross shelter communication early on September 14. The Butte fire also extended into Calaveras County, in the ARRL San Joaquin Valley Section.
"The heart of our county is burned," Calaveras Amateur Radio Society President Ken Sanders, AE6LA, reported, with much of the area under mandatory or advisory evacuation alerts. "We've had an informal net going since the beginning on our 145.170 repeater," he said on September 14, adding that he expected that activity to continue "for several days."
Raging southeast of Sacramento in the Stanislaus National Forest region, the Butte Fire has consumed some 71,000 acres and was 49 percent contained as of September 17. The fire has destroyed more than 250 homes, and damage assessment continues.
Meanwhile, the 70,000+ acre Valley Fire west of Sacramento has destroyed nearly 600 homes as well as many other structures. ARRL Sacramento Valley Section Manager Ron Murdock, W6KJ, said Amateur Radio operators coordinated by Charlie Porter, N6JOA, at the University of California-Davis have been collecting veterinary supplies for evacuated domestic animals and livestock. "These will be transported to Petaluma and other unspecified locations in Sonoma County by members of the Class of 2017 Veterinary Sciences Department," he told ARRL.
National Preparedness Month
Make an Emergency Communication Plan
This article, from the Ready.gov website, Make A Plan page, explains what an emergency communication plan is and why you should make one for your family. It also provides tips and templates on how to make a plan.
Why Make a Plan
Your family may not be together if a disaster strikes, so it is important to think about the following situations and plan just in case. Consider the following questions when making a plan:
How will my family/household get emergency alerts and warnings?
How will my family/household get to safe locations for relevant emergencies?
How will my family/household get in touch if cell phone, internet, or landline doesn't work?
How will I let loved ones know I am safe?
How will family/household get to a meeting place after the emergency?
Download and Print a Plan
Here is a template that you can download, print, and fill out:
Here are a few easy steps to start your emergency communication plan:
Understand how to receive emergency alerts and warnings. Make sure all household members are able to get alerts about an emergency from local officials. Check with your local emergency management agency to see what is available in your area, and learn more about alerts by visiting: www.ready.gov/alerts. Examples of media for alerts include:
phone (work, cell, office)
email
social media
medical facilities, doctors, service providers
school
Decide on safe, familiar places where your family can go for protection or to reunite. Make sure these locations are accessible for household members with disabilities or access and functional needs. If you have pets or service animals, think about animal-friendly locations.
Examples of meeting places:
In your neighborhood: A mailbox at the end of the driveway, or a neighbor's house.
Outside of your neighborhood: library, community center, place of worship, or family friend's home.
Outside of your town or city: home of a relative or family friend. Make sure everyone knows the address of the meeting place and discuss ways you would get there.
Discuss family/household plans for disasters that may affect your area and plan where to go. Plan together in advance so that everyone in the household understands where to go during a different type of disaster like a hurricane, tornado, or wildfire.
Collect information. Create a paper copy of the contact information for your family.
Identify information and pick an emergency meeting place.
Share information. Make sure everyone carries a copy in his or her backpack, purse, or wallet. You should also post a copy in a central location in your home, such as your refrigerator or family bulletin board.
Practice your plan. Have regular household meetings to review your emergency plans, communication plans and meeting place after a disaster, and then practice, just like you would a fire dri
Why Public Service-Oriented Hams Should Participate in Contests
You may have heard of the Fireman Olympics or lumberjack competitions. Most of you have seen a rodeo – at least on television – where cowboys (and cowgirls) do their thing in a stadium rather than on the range. What do all these have in common? They test skills used on the job in an enjoyable yet challenging environment. Guess what? Amateur Radio operators compete, too, in a variety of contests held throughout the country and the world. Internationally, this is called "Radiosport." Domestically, we just call it "Contesting." Many highly competitive radio amateurs consider their regular operating time to be part of their training for competitions. In a larger sense, though, radio contests are training that improves our ability to do whatever else we do in Amateur Radio more effectively.
Contesting helps prepare us for demanding communication tasks such as might be encountered during a major disaster. Why do I call contests training events? Simply put, all the skills built through contesting experience are valuable in emergency communications situations:
Hearing, understanding and recording information quickly and accurately.
Extracting information from weak signals or through interference and noise.
Establishing and completing contacts with rapid efficiency.
Finding work-arounds when the unexpected happens, rather than giving up.
Knowing how to get the most out of your equipment and antennas.
Understanding propagation and making those tough long-haul contacts.
Each contest has its own unique rules that define the challenge. There are specific starting and ending times, encompassing operating periods as short as four hours or as long as two days. Eligible stations (i.e., those with whom contacts count for contest credit) may be confined to a specific state or country or may include all hams worldwide.
There is a defined exchange, a set of information that must be sent, received and logged accurately. Exchanges can be as simple as three or four characters to a lengthy data set that simulates the message header in a formal radiogram.
Each contact adds points, and often there is a "multiplier" for each geographic area contacted. The sum of contact points times the sum of multipliers yields the final score. Participating operators usually submit their contest logs to the sponsoring organization in electronic form, which enables rigorous cross-checking for accuracy and facilitates timely publishing of the results.
Contests are not limited to the HF bands that are primarily the domain of many General-class and higher licensees. There are VHF, UHF and even microwave contests, all available to holders of every class of license. If you think that the two-meter or 70-centimeter band is limited to supporting nearby and repeater contacts, you're in for a surprise!
Communication over hundreds of miles and more is possible with suitable antennas and equipment. By participating in these competitions, you will learn what works best and how your station's effectiveness can be improved.
You don't have to be in it to win it; just take part, and have fun while you're learning to enhance your and your station's performance. When former FCC Enforcement Bureau Chief Riley Hollingsworth addressed an audience of hams at a major radio convention a few years ago, he advised them to watch and learn from contesters. "They're the best operators in the world," he said. Having participated with many top-notch contesters myself over the last four decades, I would have to agree. If my life depended on a message getting through quickly and accurately under difficult conditions, having world-class contesters at each end of the circuit would greatly enhance the likelihood that I would survive.
Of course, most of us aren't world-class contesters. Yet we, too, can sharpen our operating skills by exercising them in organized competitions. With standardized rules and widely disseminated results, we can compare our performance with that of our peers and measure our improvement from one year to the next.
We can identify and correct weaknesses in our stations, evaluate the impact of equipment and antenna changes, and push ourselves to solve real-time communication problems as efficiently as possible.
All this builds and hones transferable skills. It makes us better at what we do, which is getting the message through. Remember, when all else fails, Amateur Radio works, and properly trained, dedicated hams make it happen. – Marty Woll, N6VI, ARRL Vice Director, Southwestern Division, from the Southern California Contest Club website, reprinted here by permission.
Amateur Radio Volunteers Face Fire Threat While Supporting Emergency Communication
The North-Central Washington town of Republic touts "air you can't see" on its website. That's not the case this week. Wildfires in the US Northwest have not only hampered the air quality and visibility, but led
to a Level 2 evacuation order in the Ferry County community of about 1000 residents. That could rise to Level 3. Amateur Radio volunteers in Ferry County have been on the front lines of the wildfire emergency there. In Republic, a combination of Ferry County Search and Rescue (SAR), Community Emergency Response Team (CERT), and ARES/RACES volunteers have been supporting communication for a shelter housing some 4 dozen evacuees — with more to come, according to Ferry County ARES Emergency Coordinator and RACES Radio Officer Sam Jenkins, WA7EC.
"We are now close to our maximum support level for local volunteers," Jenkins told State RACES Officer Monte Simpson, AF7PQ, who also is ARRL Western Washington Section Manager. "We are now expecting to operate for several weeks at the Republic High School. The firefighters say they are going to attempt to defend our emergency operations center/emergency shelter at all costs," Jenkins added. "We are standing our ground."
In addition to being the Ferry County ARES EC and RACES RO, Jenkins explained, he also heads the SAR component of the dual Ferry County SAR-CERT contingent. "I have networked these three units together over time to increase the effectiveness of our small, poor, but valiant teams," he told ARRL. At present, he's working under the RACES banner.
Firefighters from several states and British Columbia, Canada, have been working the Kettle Complex of three fires in Ferry County, which covered nearly 60,000 acres as of August 26. No injuries have occurred and no homes have been lost. Support teams from the Washington National Guard are assisting fire managers to ensure safety. West of Republic near Omak, the Okanogan Complex at more than 280,000 acres is now the largest fire complex in the state's history.
According to the National Interagency Fire Center (NIFC), wildfires continue to burn actively across the West. The NIFC reports that 66 large fires — or complexes — have burned nearly 1.6 million acres in 11 states. Twelve fires are burning in Washington alone.
Jenkins said his team of volunteers would like to have additional support, but, he told Simpson, "I would expect that it is asking a lot for anyone to leave the comfort of their home to travel to a place where the smoke is so thick you can cut it with a knife, and not know if they would escape."
Radio amateurs responding to the wildfire emergencies have been using VHF repeaters as well as HF on 75 and 40 meters, including SSB and digital modes, and IRLP.
"We are doing our best at doing our thing," Jenkins said. "I am concerned about what is happening in our sister counties."
ARES® Supports 60,000 Runners in Atlanta for Peachtree Road Race
For the last 45 years, Atlantans have celebrated Independence Day in the United States in unique fashion: by closing one of the City's busiest thoroughfares and allowing 60,000 runners, supported by 5000 volunteers, including over 50 Amateur Radio volunteers, and nearly 200,000 spectators for the Peachtree Road Race, sponsored by the Atlanta Journal-Constitution and the Atlanta Track Club.
The Amateur Radio response is coordinated by Race Committee Members David Ziskind, KE4QLH, and Chris Balch, KS4MM (ARRL Volunteer Counsel and AEC for Atlanta ARES). Operators come from ARES groups and Amateur Radio clubs all over the metropolitan Atlanta area.
Working closely with the Atlanta Fulton County Emergency Management Agency (AFCEMA), Atlanta Police and Fire Departments, as well as numerous federal and state law enforcement and public safety agencies, the Amateur Radio contingent provides crucial on course intelligence and safety reports for injured runners, race conditions, and even the occasional suspicious package. Learning from the experience of colleagues in Boston, net control operations for the race are located at AFCEMA's underground Emergency Operations Center. AFCEMA Director Matthew Kallmayer has worked closely with Atlanta ARES EC Ken Reid, KG4USN, to stock the EOC with 3 dual band radios (2 Kenwood V71s and an ICOM IC-2820). Accordingly, we were able to run and respond to 3 different nets (as well as a D-STAR link to the Atlanta Police Headquarters) providing coordination among public safety, Atlanta Track Club organizers, and media outlets. Race communications benefited from the loaned repeaters of the Atlanta Radio Club, the Metropolitan Atlanta Telephone Pioneers Amateur Radio Club, and the Georgia Tech Amateur Radio Club.
This year provided a particularly challenging environment as July 4 saw Atlanta hit by a long line of severe and dangerous thunderstorms just as the race got underway. As the storms intensified, Track Club officials made the decision to hold the last half of the runners (half the field was already on the course) and move those waiting to start indoors for safety. After a 30-minute delay, 25,000 race participants emerged into the rainy late morning and completed their annual jog down Peachtree Street. – Chris Balch, KS4MM, AEC Atlanta ARES
Anatomy of a CERT: East Lake (West Central Florida) CERT
[In last month's issue, an article "Critical Partnership: CERT Joins with Amateur Radio Club for Field Day in West Central Florida," touched on the synergistic relationship between a CERT group and large Amateur Radio club. This month, we'll explore this relationship more fully, a whole that seems more than the sum of its parts – ed.]
East Lake CERT (Community Emergency Response Team) in Palm Harbor, Florida is very active in Amateur Radio in the north end of Pinellas County. [Pinellas county lies to the east of Tampa with a population of about one million on the coast of the Gulf of Mexico. Clearwater is the county seat, and St. Petersburg is its largest city.] Combining forces with the Upper Pinellas Amateur Radio Club (UPARC) results in a pool of nearly 70 licensed amateurs with training that goes beyond traditional ARES training. ARES trains us to be communicators
using a variety of frequencies and modes in emergencies. A CERT educates ordinary citizens about disaster preparedness for hazards that may impact their area and trains them in basic disaster response skills, such as fire safety, light search and rescue, team organization, and disaster medical operations. Using the training learned in the classroom and during exercises, CERT members can assist others in their neighborhood or workplace following an event when professional responders are not immediately available to help.
One aspect of this training is communications. Many CERT teams use basic Family Radio Service (FRS) radios for this. We have found that FRS is not always reliable for this purpose. East Lake CERT realized the shortfalls of FRS and began to recruit and train Amateur Radio operators to be their communicators through Technician and General licensing classes, mentoring and word of mouth.
Brief History of CERT
The first CERT was born in California out of a need of support for first responders following catastrophic earthquakes. The program was intended to fill the gap between what first responders were capable of providing and the needs of the community immediately following these events.
The training units were developed using lessons learned from actual events. The most immediate needs were prioritized and combined with preparedness objectives to present a well-rounded and inclusive program that would enable volunteers to prepare, plan and respond in the safest and most efficient way.
In February, 1985, a group of Los Angeles City officials went to Japan to study its extensive earthquake preparedness plans. The group encountered a society that had taken extensive steps to train entire neighborhoods in one aspect of alleviating the potential devastation that would follow a major earthquake. These single-function neighborhood teams were trained in fire suppression, light search and rescue operations, first aid, or evacuation.
In 1986, the City of Los Angeles Fire Department developed a pilot program to train a group of leaders in a neighborhood watch organization. A concept developed involving multi-functional volunteer response teams with the ability to perform basic fire suppression, light search and rescue, and first aid. This first team of 30 people completed training in early 1986 and proved that the concept was viable through various drills, demonstrations, and exercises. Expansion of the program, however, was not feasible due to limited City resources, until an event occurred in 1987 that impacted the entire area.
On October 1, 1987, the Whittier Narrows earthquake vividly underscored the threat of an area-wide major disaster, and demonstrated the need to expedite the training of civilians to prepare for earthquakes and other emergencies. Following the Whittier Narrows earthquake, the City of Los Angeles took an aggressive role in protecting the citizens of Los Angeles by creating the Disaster Preparedness Section within the Los Angeles Fire Department. Their objectives included:
• Educate and train the public and government sectors in disaster preparedness
• Research, evaluate, and disseminate disaster information
• Develop, train, and maintain a network of Community Emergency Response Teams (CERTs).
In 1993, the Federal Emergency Management Agency (FEMA) decided to make the concept and program available to communities nationwide. The Emergency Management Institute (EMI), in cooperation with the LAFD, expanded the CERT materials to make them applicable to all hazards.
In January 2002, CERT became part of the Citizen Corps, a unifying structure to link a variety of related volunteer activities to expand a community's resources for crime prevention and emergency response.
As of November 2011, 50 states, three territories and six foreign countries were using the CERT training.
East Lake CERT History
East Lake CERT was established in 2005 by Mark Weinkrantz and District Chief Mark Teolis. The first class was trained by Lealman CERT. Not all teams are able to sustain the interest of their members, are not able to recruit new members, or have the funds to progress. In this regard, East Lake CERT has been very fortunate to have been able to expand their membership as well as focus on one of the most valuable assets following a disastrous event: communications. East Lake CERT has 30 licensed amateurs. They train weekly with a net held on UPARC's VHF repeater.
Communicators also train with the entire CERT team in several drills throughout the year. In June, East Lake CERT activated its own UHF repeater with the call W4ELC. East Lake CERT has partnered with UPARC's 40 members to provide CERT training to UPARC members and UPARC has welcomed the CERT communicators to use the W4AFC repeater.
East Lake CERT Moves Forward into Future
Where do we go from here? What does the future hold? East Lake CERT has been working closely with fire departments in North Pinellas County municipalities to initiate training of Fire Department personnel to be Amateur Radio operators, position radio equipment in each station and train personnel on the use of the radios. The goal is to provide a backbone of emergency communications through Amateur Radio that can be activated in an emergency in North Pinellas County. That network could then interface with Pinellas County's EOC, or support local, neighborhood operations. East Lake CERT is about to open communications with Tarpon Springs, Florida and Sunstar (an ambulance company) to include them in the network.
Conclusion
UPARC and East Lake CERT have come together to form an alliance and partnership for the good of our local communities. A CERT trained Amateur Radio communicator is someone you want around when disaster strikes. An Amateur Radio network among Fire Districts could be the lifeline that supports our CERT teams in whatever tasks they are called upon to perform. East Lake CERT has focused on helping members become licensed operators and in the establishment of a North County emergency communications system. Having CERT trained volunteers and radio operators in every community is our goal in order to live up to our mission statement: "The Greatest Good For The Greatest Number." – Contributing authors: Kevin Poorman, KV4CT, East Lake CERT; David Moore, KK4DLX, East Lake CERT; Barb Conciatori, KI4VOV, East Lake CERT; and Andy Miller, KJ4FEC, Upper Pinellas Amateur Radio Club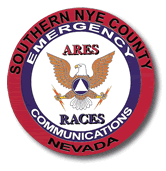 Nevada ARES Volunteers Activate During 911 Outage:
Amateur Radio Emergency Services (ARES) members in Nye County, Nevada, were pressed into service on July 27 when the county lost 911 capabilities on the AT&T system. Southern Nye County Emergency Coordinator Gerald Fuge, KC6ILH, reported that nine ARES members deployed to four locations to act as 911 relay points for the Emergency Operations Center (EOC). ARES personnel staffed locations in Pahrump, Amargosa, and Beatty, Nevada. Another radio amateur not affiliated with ARES provided communication with two local FM broadcast stations and delivered EOC information releases from the ARES network to those stations. Nye County encompasses more than 18,100 square miles and is the third largest county in the US. ARES personnel were deployed for about 3 hours. Southern Nye County ARES members have responded to similar 911 outages in the past.
— Thanks to John Bigley, N7UR
California ARES Volunteers Support Wildfire Response
Amateur Radio Emergency Service (ARES) volunteers in Butte County, California, responded on July 29 to a Red Cross request to support communication at an evacuation shelter in Oroville during the Swedes Fire. Butte County Emergency Coordinator Scott Petersen, KE6VUS, said several ARES operators were called via a newly developed telephone tree. Volunteers used the W6SCR repeater, initially for a logistics net and later for point-to-point contacts.
Assistant EC Dale Anderson, KK6EVX, was on site in Oroville within an hour of callout at 1600 local, Peterson said, adding, "he had to travel a bit to get there." Peterson arrived on the scene at 1845 local, and the facility was staffed until 2130 local, at which time the communications section was released from service and the gear broken down and packed. Peterson said the Butte County ARES communications van was not utilized for this event. In all, seven ARES members participated in the activation.
According to Cal Fire, the Swedes Fire — one of many in California in recent days — burned over 400 acres, destroying two residences and 14 other structures. That fire was contained as of August 3, although fire crews remain in the area.
The Swedes Fire was among the smaller blazes that have popped up this summer on the West Coast — most of them in California, where some 13,000 residents have been ordered to evacuate as firefighters work to contain about 20 wildfires. The largest — the Rocky Fire north of San Francisco — already covers more than 100,000 square miles. — Thanks to ARRL Sacramento Valley Section news; Cal Fire
Letters: ARES/SAR Operations Save Lives in New Mexico
ARES is alive and well in McKinley County, New Mexico. ARES there is embedded with the County Search and Rescue (SAR) organization that has 27 active members, 15 of whom are Amateur Radio operators. Also included in the membership is a rope team, two medical doctors, a nurse-practitioner with a search dog, four EMTs and a paramedic. The group is supported by a local Med-Flight helicopter transport service to assist in quick searches of remote areas, and triage.
Four years ago, an incident involving a mountain climber prompted the McKinley County Fire and Rescue Team to invite the county SAR/ARES to join forces to improve response and assistance. With
this consortium, response times have improved from hours to minutes. The SAR/ ARES members take the same training as volunteer firefighters and rescuers. Training includes radio communication tracking, use of ropes in rescue, emergency medical procedures and wilderness first aid.
To keep in practice, the group works numerous public events each year, providing communications, emergency medical assistance and off-road transport for participants in bike races, motocross events, and the annual Gallup Balloon Rally.
The group has participated in searches for lost persons and has provided communications for Fire/Police/Medical personnel and even the FBI in a forensic evidence collection case.
Hiker Falls Off of Cliff
In February, 2013, a hiker fell off of a cliff, landing on a narrow ledge 30 feet down that was still 100 feet above the ground. He called for help on his cell phone and his approximate location was determined by triangulation on the cell phone signal. Fire Department personnel searched the area, finally locating him high above on the ledge.
Dan, KE5FYL, Team Leader of the Rope Team that finally rescued the hiker, studied maps and considered advice of the locals who knew the area, enabling the team to get positioned above the subject. Rescue gear was divided among Dan's five man team: long ropes, short ropes, a pickoff harness, webbing, carabiners, and rappel devices. "I used my 2 meter radio to keep us in contact with the rest of the team via a local repeater during our climb," Dan reported.
Finding a way up to the top of the mesa above the stranded hiker in the dark was difficult and took several tries, backtracking and scouting different approaches each time. The team used a rope to belay members up at a few spots. The most agile climber in the group was sent up a short technical section with a couple of spotters, and then he found a good anchor for himself, wrapped the rope around his body, and belayed the rest of the team as they climbed up.
Once on the top of the mesa, Dan's team moved to the target coordinates, could see the lights of the rescuers below the subject, and found the subject's foot prints. "We followed them down the easy part of the cliff, and got to a good spot directly above the subject," Dan said. The subject was on a one and a half to two foot ledge about twenty feet below the team.
It was decided to send one rescuer down to the subject to make an assessment. Another rescuer sat on the edge, talking to the subject, while the rest set up an anchor and ropes. A rescuer took a jacket, the pickoff harness and a helmet, and was lowered to the ledge. He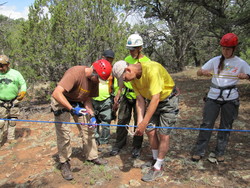 attached the pickoff harness to the subject, and attached it to the rope. Getting the subject down was priority number one; he had fallen so there was a risk of spinal injury, but did not have any altered sensations in his extremities. He was cold. An assessment and plan were quickly adopted, and the rescuer traversed the ledge with the subject to a point directly below the anchor, and they weighted the rope. The rest of the team on top of the cliff lowered them down. The subject was taken to the hospital for evaluation, and did not sustain any substantial injuries.
Jimmy Graham, K5GRA, president of the ARES/SAR team, said he "got into ARES and emergency rescue services to save lives and we have saved lives." — Michael Daly, N5SJ, Gallup, New Mexico
Texas, Oklahoma Ham Volunteers Stand Down Following Spate of Severe Weather
Severe storms and flooding in Texas and Oklahoma that extended beyond the Memorial Day holiday weekend kept ARES and SKYWARN volunteers busy or on alert through the rest of May, which now is being crowned as the wettest month on record in both states. Texas received more than 8.8 inches of rainfall during May, while Oklahoma got a whopping 14.4 inches. Wichita Falls, Texas, saw 17 inches of rain
during May, while Oklahoma City got nearly 19.5 inches. The resulting flooding and property damage — with some severe wind incidents thrown in — caused numerous ARES callouts and SKYWARN net activations.
In Oklahoma, Section Emergency Coordinator Mark Conklin, N7XYO, said Amateur Radio volunteers provided communication for several American Red Cross damage assessment teams in the wake of flooding in Comanche County and elsewhere. "ARES-OK volunteers in action this month have provided 436 hours of service," Conklin reported on May 31. "Teams were deployed to the Bridge Creek community and Comanche and Leflore counties. In addition, Conklin added, nearly every storm complex that rolled through Oklahoma spawned numerous SKYWARN nets with volunteers providing "many hours of service."
ARES teams in his state stood down on June 2.
South Texas Section Emergency Coordinator Frank Aguilar, N5SSH, said all districts in his Section had stood down by June 1. "Weather events are over, and the forecast does not show rain for the next week or two, which means search and rescue and clean-up will be the main focus," he said. A summary of activity showed that ARES volunteers assisted in local emergency operations centers and the Red Cross. In addition, he noted, SKYWARN nets were called up in vulnerable counties, and other ARES teams remained on standby in case they were needed.
ARRL South Texas Section Manager Lee Cooper, W5LHC, called the spate of heavy rainfall, tornadoes, and flooding over some two-thirds of his state "pretty much unprecedented" for the region. "The main event is over," Cooper said this week. "We are looking at a approximately 10-day period of dry sunny weather in South Texas and do not anticipate any additional activations."
This spring's torrential rains stood in stark contrast to the severe drought the region had experienced over the past few years. May's heavy rains have been linked to a burgeoning El Niño in the Pacific.
While fair weather returned to the region this week, forecasters fear the now rain-saturated ground could make things worse during the hurricane season, which began on June 1.
Amateur Radio Volunteers Muster for "Unprecedented" Weather Event
When extremely heavy rainfall hit Texas and Oklahoma over the Memorial Day holiday weekend, Amateur Radio Emergency Service (ARES) and SKYWARN volunteers scrambled to assist local emergency operations centers and National Weather Service (NWS) offices. Severe weather has continued into this week.
"This has probably been the most significant weather event to hit Texas," ARRL South Texas Section Manager Lee Cooper, W5LHC, said. "We have had major tropical storms and hurricane events, but the widespread combination of heavy rains, tornadoes, and flooding all at same time and covering two-thirds of the state is pretty much unprecedented for us."
Oklahoma Section Emergency Coordinator Mark Conklin, N7XYO, said communication systems in his state have, for the most part, remained unaffected by the flooding. "[There have been] no deployments or activations by any ARES-OK groups," Conklin told ARRL. "All of the American Red Cross shelters are able to communicate via cell phone or normal land lines."
Conklin said that ARES members in Leflore, Cherokee, Okmulgee, Tulsa, and several other Oklahoma counties have been busy on SKYWARN nets. "Members that also support local emergency management agencies have been busy passing information about storm damage and area flooding," he added.
The fierce, torrential rainstorms were in stark contrast to the severe drought the region had experienced in recent years. The floods they generated over the weekend struck with what Texas Gov Greg Abbott called "tsunami-type power." The extreme flooding stranded hundreds and has resulted in several deaths. Abbott has declared a state of emergency in Texas and designated some three dozen counties as disaster areas.
The NWS-Houston Office posted a rare "flash flood emergency" warning, as the rainfall inundated highways, washing away or stranding countless vehicles. On May 24, the NWS confirmed than an EF1 tornado had touched down briefly in southwest Houston. At the peak of the rainfall on May 25, Houston was reported to have received nearly 1 foot of rain in less than 24 hours, comparable to the rainfall that might accompany a tropical storm or hurricane.
Earlier in the holiday weekend, nearly the entire state of Texas was under a flash flood watch on May 23. In Wimberly, Texas, a woman called her sister to report that her family's house was "floating down the river." The home's occupants are listed as missing. According to media accounts, water levels in Wimberly rose nearly 40 feet in a matter of hours. Read more.
Nepal Now Has a Second Repeater in Operation
A VHF repeater that had been held up in customs in Nepal during the response to the April 25 magnitude 7.8 earthquake has been installed at Tribhuvan University in Kathmandu. The new system will be put to use during the current earthquake recovery effort and will be available for any future emergencies. Initially disrupted by a magnitude 7.3 aftershock earlier this month, the installation was completed on May 20. It is Nepal's first VHF repeater (145.81 in/145.21 out with 100 Hz tone). The country's only other repeater is a dual-band (VHF/UHF) machine. Ojha said the repeater, installed by Sanjeeb Panday, 9N1SP, and his students at Tribhuvan University, has been tested successfully from multiple locations in Nepal's capital city.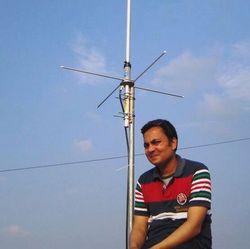 "Even though they had to struggle through a challenging customs process, even though they were interrupted in their efforts by the second massive quake, they persevered and got the repeater functional during a time of a great humanitarian crisis," Suresh Ojha, W6KTM, the Computer Association of Nepal-USA (CAN-USA)/Radio Mala Disaster Preparedness Committee chairman told ARRL. "The Nepali people now have two repeaters to service Kathmandu, both of them donated by CAN-USA."
The first repeater was installed a couple of years ago at the National Society for Earthquake Technology (NSET) headquarters in Kathmandu. That repeater has been in regular use since the April 25 earthquake, Ojha said, "so the addition of this new repeater w
Operation Volunteer Placement: A Volunteer Reception Center Exercise, June 16, 2015
Operation Volunteer Placement allows agencies and organizations tasked with the coordination of spontaneous volunteers during a disaster to exercise their plan in a web-based simulation. Participants work together as a unified team in establishing, managing and demobilizing a Volunteer Reception Center.
This exercise is intended for group interaction and should include local partners involved in the management of disaster volunteers, including EMAs and sister government agencies, VOADs, and other nonprofits. This exercise is self-paced and can be accessed between 9:00 AM and 4:00 PM ET. It lasts between 90 minutes and three hours, depending on group interaction.
Note: While intended for group interaction, each participant should individually register to ensure receipt of post-exercise certificate of participation. For additional information and to register, click here.
Amateurs Support Three Mile Island Nuclear Plan Exercise
[There is a longstanding history of Amateur Radio communications support of exercises and drills, plans and procedures with officials of the Three Mile Island Nuclear Power Plant. I remember touring the facility with local and section ARES emergency coordinators some 25 years ago. For us seniors, the Three Mile Island accident that occurred on March 28, 1979, in one of the two Three Mile Island nuclear reactors in Dauphin County, Pennsylvania, is seared forever in our memories. The accident involved a partial nuclear meltdown; it was the worst accident in U.S. commercial nuclear power plant history. The incident was rated a five on the seven-point International Nuclear Event Scale: Accident With Wider Consequences. — K1CE]
On April 14, 2015, the semi-annual Three Mile Island Nuclear Plant Exercise was held in south-central Pennsylvania, with ARES groups active in supporting the drill. York County ARES Emergency Coordinator Sandra Goodman, N3ECF, reported a successful operation. The drill commenced with activation notices sent to phones and pagers. Multiple levels of states of emergency were declared, resulting in evacuation of the 10 mile Emergency Planning Zone (EPZ). [To facilitate a preplanned strategy for protective actions during an emergency, there are two emergency planning zones around each nuclear power plant. The exact size and shape of each EPZ is a result of detailed planning which includes consideration of the specific conditions at each site, unique geographical features of the area, and demographic information. This preplanned strategy for an EPZ provides a substantial basis to support activity beyond the planning zone in the extremely unlikely event it would be needed. — ed., U.S. Nuclear Regulatory Commission]
Municipal EOCs were included in the evacuation, and ARES operators received traffic advising that EOC staffs and facilities were relocating to alternate sites. York County ARES had 26 operators assigned: five operators staffed the county EOC, two operators each manned ten
municipal EOC sites, and one operator monitored the Pennsylvania EMA (PEMA) HF frequency from home. An additional six operators checked into the net on standby in case of a real emergency.
Communications and operations were conducted on two nets: A voice net for four of the EOCs, and one digital mode net for five EOCs. As part of the RACES Officer Checklist, radio contact was also established with PEMA HQ, as well as with Cumberland, Dauphin, and Lancaster County PEMA offices.
Thirty messages were handled, including formal ICS-213 formatted messages. Lessons learned, according to Goodman: "At the (York) County EOC, I need to practice more on how to handle the messages coming from EOC staff and finding a better method of recording and tracking those messages." Goodman added: "Some of that requires gaining a better acquaintance with the EOC staff so we know where the incoming message traffic needs to be directed." And, "overall we had a good experience."
Adams County ACS Also Active
The Adams County (Pennsylvania) Auxiliary Communications Service (ACS) was also active, participating in both the main exercise on Tuesday, April 14, and the Wednesday, April 15 shelter/decontamination portion. Adams County primarily functions as a reception county during TMI incidents. The role is mainly supporting those residents evacuating the counties closest to TMI and moving into shelters further away, and upwind, from TMI.
On Tuesday evening the ACS had five operators at the county EOC to monitor traffic from PEMA HQ on VHF, HF and the primary York County VHF frequency, and pass traffic as needed. The Adams County EMA Director asked that a message be sent to PEMA HQ and a reply was received from them. This message was handled using Olivia 8/500, a data mode on 3.583 MHz; Fldigi software was used for this exchange. Having functional backup communications at the county EOC is a checklist item for FEMA and PEMA evaluators. Adams County ACS met the evaluators' requirements.
On Wednesday evening, the ACS was activated by the county EMA to support the shelter/decontamination portion of the TMI exercise. ACS operators set up a station at the Red Cross shelter located at the Gettysburg High School. Two operators manned the shelter. Once the station was set up, contact was initiated and maintained with the Red Cross office in Harrisburg. The York County 146.79 MHz repeater system on Reesers Summit was employed. As in the Tuesday exercise, having backup communications available at the shelter location is a checklist item for the evaluators. Notably, the FEMA evaluator interviewed ACS operators about ACS functions and capabilities. During the final hot wash with all participants, the evaluator mentioned she was very pleased with the RACES/ACS shelter communications support. Adams County ACS met the evaluator's requirements for this segment of the exercise.
Lessons Learned
The sole issue was at the high school shelter. The school is built on very low elevation and the ACS' assigned station location had operators positioning the tripod-mounted dual band antenna on the east side of the large five story building. Thus, operators had fair communications coverage with some repeaters east of Gettysburg but little or no contact north or west. This is why the York County repeater system was employed. Since the school is a primary county shelter, a solid solution would be to see if the school district would allow mounting a permanent VHF/UHF antenna on the roof with a coax drop to a ground floor room near the gym. Alternatively, another station location near the shelter where a portable antenna could be better positioned and yield better omnidirectional coverage could be a work-around. Overall, the exercise went well and was a good experience for all operators who participated. — Don Schmitt, K3DCS, Auxiliary Communications Officer, Adams County Department of Emergency Services; ARES Emergency Coordinator, Adams County, Pennsylvania; and Chairman, Pennsylvania South Central Task Force-Amateur Radio Workgroup
[ARRL Eastern Pennsylvania Section Emergency Coordinator W.T. Jones, W3LUZ, commented on the exercise operation: "The overall effort that the ARES put out during the drill was awesome." "The ARES operators in Adams, Dauphin, York, Lancaster, and Lebanon Counties displayed the highest professionalism in their operating and that is a tribute to planning, training, and leadership," said Jones.]
ARES Manual Updated
The week following Dayton Hamvention will see the release of the new and updated ARES Manual. The ARES Manual and NTS Manual have together long been part of a single publication, The Public Service Communications Manual. The two manuals will now be separate publications. NTS leadership is currently reviewing and preparing to update the NTS Manual.
The new ARES Manual includes several new additions – inclusion of ICS forms 213, 205, and 214 for ARES use; an expanded discussion on training resources; clarification on the role and purpose of RACES; and copies of all current ARRL MOUs. The update is the first in over two decades and was a collaborative effort of field organization leaders, federal partners, and ARRL staff. The new manual will be made available online as a downloadable PDF.
New Nepal Earthquake Keeps Amateur Radio Relief Effort Going
Amateur Radio relief activity in Nepal had begun to wind down before a magnitude 7.3 earthquake shook parts of the Himalayan nation on May 12, collapsing buildings and killing dozens in a region that's still trying to recover from the much stronger earthquake on April 25. The latest quake revived the ham radio effort. Centered some 50 miles east-northeast of the Nepalese capital of Kathmandu and near the border with Tibet, the temblor was felt in India and Bangladesh. The US Geological Survey considers the May 12 tremor as an aftershock of the magnitude 7.8 earthquake on April 25.
"Immediately after the first tremor, I turned on my station and gave a call on 14.210 MHz," said Amateur Radio Society of India (ARSI) National Disaster Communication Coordinator Jayu Bhide, VU2JAU. He subsequently made contact with Satish Kharel, 9N1AA, who reported that power as well as Internet and cell phone service were out, although text messaging was still possible. 9N1AA was operating from battery power at the time, but later got his power back. Other parts of Kathmandu are still without electricity, however.
Bhide said he learned that some multi-story structures that had suffered cracks in the initial earthquake collapsed, killing several people.He said on May 14 that people were returning home from temporary shelters. He continues to receive missing person inquiries from abroad. About 300 people are still missing in Langtang Valley.
Bhide said he would continue monitoring 14.210 MHz.
The Computer Association of Nepal-USA (CAN-USA) project "Radio Mala" reported that equipment it deployed in 2013 continues to function in the aftermath of the latest tremor. Radio Mala team member Rick Santina, W6IFA, said that Sanjeeb Panday, 9N1SP, had e-mailed the CAN-USA team that the HF station was still working. Panday has installed the antenna for the second CAN-USA UHF/VHF repeater, but the installation was not able to be completed before this week's aftershock.
"We are still deploying ham radio equipment to Nepal in response to this humanitarian crisis," said CAN-USA Disaster Preparedness Committee Chairman Suresh Ojha, W6KTM.
Amateur Radio Continues to Provide Reliable Post-Quake Communication in Nepal
Amateur Radio has continued to provide reliable communication in the aftermath of the devastating April 25 7.8 magnitude earthquake that struck an area in and around the capital of Kathmandu. The disaster has so far claimed more than 7300 lives, and aftershocks, on the order of magnitude 4, continued this week.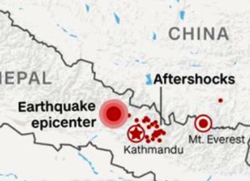 Amateur Radio's role, now winding down, has been to provide communication for responders working in more remote regions as well as to help in locating missing people. It also has served to convey information about casualties. Jayu Bhide, VU2JAU, the Amateur Radio Society of India (ARSI) National Coordinator for Disaster Communication, said this week that rescue teams moved into highly devastated areas such as Pokhara and Sindupalchowk, where their work was hampered by rain and blocked roads. "Teams are unable to reach the remotest villages," he said on May 5. "The roads are cut off, and no communication is possible." The rain has since let up.
While Nepal's cell telephone infrastructure has been functional, the batteries in most mobile telephones have discharged. On his own initiative, Bhide was able to secure funds from the Lions Club in Gwalior, where he lives, to buy 500 mobile chargers. "These will be shipped to Nepal soon," he said.
No Nepali stations were on the air for all of May 4, Bhide reported. "Everyone was waiting to get some updates, but no one was there," he said. Satish Kharel, 9N1AA, who has been prominent among the hams in Nepal involved with the earthquake response, and Bhide now are maintaining contact every 2 hours.
Nepal has only about 2 dozen Amateur Radio licensees, according to Nepali authorities last week arranged for hams from other countries to obtain 9N3-prefix call signs to assist in the earthquake relief effort, and several hams from India are in Nepal.
Amateur Radio Repeater from US Clears Customs in Nepal
Thanks to the efforts of the Computer Association of Nepal-USA (CAN-USA), a repeater that the group had donated to Tribhuvan University in Nepal was released from customs on May 5 and now is at the university in the care of Sanjeeb Panday, 9N1SP. CAN-USA Disaster Preparedness Committee Chair Suresh Ojha, W6KTM, said his organization "sought and received help from the US State Department, the US Embassy in Nepal, and Nepal's Ministry of Information and Communication."
"We were especially thrilled that the Minister of Information and Communication, the Honorable Minendra Rijal, personally contacted 9N1SP and offered his help on the matter," Ojha told ARRL. "The very next day the equipment was released from customs. We believe that the collective input from all interested parties had a cumulative effect on the overall process."
In 2013, anticipating the possibility of an earthquake disaster, CAN-USA — also known as the Global Nepali Professional Network (GNPN) — funded and installed the only Amateur Radio repeater currently in service in Nepal and donated a transmitter that was recently used to transmit slow-scan TV images of earthquake-ravaged areas to a Military Auxiliary Radio System (MARS) operator in Afghanistan. Ojha said his organization is "thrilled to have another repeater in the nation."
On May 1, CAN-USA — under its "Radio Mala" project banner — called on the Amateur Radio community to urge the government of Nepal to release additional ham radio equipment being held up in customs, so that it could be used to support the earthquake relief and recovery effort.
CAN-USA said that as Nepal responds to the devastating 7.8 magnitude earthquake, Amateur Radio has been playing "a key role in the recovery effort." Radio Mala had decried "bureaucratic misunderstanding" in Nepal that, it said, was keeping needed Amateur Radio equipment out of the hands of responders.
ARRL Emergency Preparedness Manager Mike Corey, KI1U, said the League has been working closely with amateurs in Nepal to identify equipment needed for the relief effort and was preparing to ship equipment from its Ham Aid inventory. "We're still not able to send anything," Corey said this week, citing transportation and bureaucratic challenges.
The "Ham Radio Mala" Facebook page includes more information on Amateur Radio's role in the current earthquake relief and recovery effort.
Nepal Quake video from the weather channel
https://www.facebook.com/ARRL.org/videos/10153000082652408/?video_source=pages_finch_main_video
Boston Marathon Amateur Radio Support Adjusts to a "New Normal"
More than 250 Amateur Radio communication volunteers participated on Patriots Day (April 20) in the 119th running of the Boston Marathon, sponsored by the Boston Athletic Association (BAA). This event was the second since the bombings that tragically marred the 2013 race. Amateur Radio volunteers have supported Boston Marathon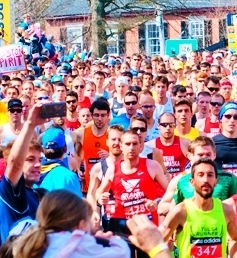 communication for decades. Starting with the 2015 event, a Communications Committee the BAA formed last year established a "new normal" for marathon support by integrating Amateur Radio, public safety, and commercial radio providers into a single team. In step with the BAA's mandate to "review the entire communications program," the seven-member Amateur Radio management team raised the level of training to a professional caliber and developed better documentation for volunteers. Tight coordination with the BAA as both leader and "client" of the Amateur Radio communication support "led to further advancement in overall effectiveness as evidenced by a very successful outcome despite difficult weather," the Amateur Radio team said in a media release.
"Development of detailed communications plans for each race segment was at the heart of the Committee's work," the Amateur Radio team said. "We expect this arrangement to continue, along with an increasing emphasis upon further training and standards, all intended to enhance the work of Amateur Radio public service, and to raise confidence in our capabilities to integrate with other organizations as effective team players."
Cool, damp weather made the volunteers' role more difficult, but carrying out communication tasks according to the 2015 plan went smoothly. "Many Boston Marathon race officials favorably commented on the advancement in communications provided by Amateur Radio and other entities both in the planning stage and on event day," the Amateur Radio team said.
"Through all the meetings, conference calls, and documents produced, I would say we all fulfilled what we set out to accomplish and more," said Chris Troyanos, Medical Coordinator for the Boston Marathon. "From the public safety side to all involved with the BAA, our communications program set new heights of excellence." Organizers from the Red Cross also expressed satisfaction with 2015 Boston Marathon communications.
Event logistics were coordinated more tightly. Added to Amateur Radio's tasks this year was reporting of hourly medical statistics from each of the 26 medical field units, and a new medical re-supply system, both relying on Amateur Radio communication. The cooler weather meant fewer heat-related medical emergencies, but from mile 12 onward, many runners suffered chills and had to stop at medical stations to warm up before moving on.
Efforts were organized in segments that included start, course, transportation, and finish. A back-up medical dispatch communication plan, included in the public safety matrix, was among the many operational plans in place. Amateur Radio volunteers shadowed key race officials at the start and finish line, augmenting commercial radio services. They also staffed medical and hydration stations along the course; vans that travelled the course transported runners unable to complete the race to the finish line. Read more. — Thanks to Rob Macedo, KD1CY, Mark Richards, K1MGY, and the Boston Marathon Amateur Radio team
Amateur Radio Volunteers Activate Emergency Nets Following Chile Volcano Eruption
Southern Chile's Calbuco volcano erupted this week for the first time in more than 40 years, forcing the evacuation of an area of some 12 miles around the volcano. Approximately 5000 residents have been relocated, and ash has been reported from as far away as Argentina.
"Nature strikes our Chilean brothers one more time," said International Amateur Radio Union Region 2 news editor Joaquín Solana, XE1R. IARU Region 2 reports that emergency nets are in operation on 7050 kHz, 14,250 kHz (alternate), and 3,738 kHz (alternate), and requests that other users keep those frequencies clear for emergency traffic.
According to Chile's National Mining and Geology Service, the column of ash measures nearly 7 miles. The agency said volcanic activity was diminishing but that the state of emergency remains for the affected region.
NPR quoted correspondent Lourdes Garcia-Navarro, who reported that local officials are saying people are very frightened. "The immediate concern is the volcano's eruption could trigger snow melts and cause flooding," she said.
According to NPR, the volcanic activity "seems to have caught Chile's geologists by surprise." No injuries have been reported so far.
ARRL "Ham Aid" HF Gear Arrives in Micronesia in Wake of Tropical Cyclone
An ARRL "Ham Aid" kit of HF gear has arrived in Federated States of Micronesia (FSM) as part of a relief effort in the wake of Tropical Cyclone Maysak. The Ham Aid equipment accompanied a shipment of radio gear, tools, and supplies that John Bush, KH6DLK/V63JB, took from Hawaii to FSM last week. Tropical Cyclone Maysak ravaged many of the nation's islands in late March and early April, wreaking major damage and causing some deaths. ARRL Hawaii Section Manager Bob Schneider, AH6J, said he spoke with Bush via a phone patch established through the station of Richard Darling, AH7G, and Barbara Darling, NH7FY.

"John is now on Falalop Island, which is part of Ulithi Atoll, in Yap state," Schneider reported. "John said the Ham Aid kit was next to him in the shack, so it made the trip all the way. He plans to deploy it at the dispensary." Bush serves as technology coordinator for the Federai Elementary School in Ulithi.
Schneider said Bush stopped first on Yap Island, spending a couple days talking to government and civil authorities concerning recovery planning and the school situation. Bush told Schneider that Yap Island suffered little damage. Bush reported that the airport on Falalop Island was damaged but operational. "He reports most buildings — including his own — were destroyed," Schneider said. "The operations building at the airport, high school, and a couple others had damage but were stronger than most buildings. The high school lost its roof and the computer lab was flooded, along with all the computers." Bush told Schneider that there is a massive amount to debris all around.
Bush was able to borrow two 60 Ah batteries on Falalop, and replacements are in one of the cargo shipments coming from Guam. He also has two small, sealed batteries that he was able to transport on his flight. Suitcase solar panels that Bush transported from Hawaii have worked very well, Schneider said, adding that Bush suggested that the ARRL obtain a couple of these units as power backup in isolated areas, as part of the Ham Aid package.
Bush told Schneider that the HF equipment was working well and that he prefers to operate during daylight, since electrical power has not yet been restored on the island. "The power company is replacing poles, and it may take some time to get commercial power back," Schneider said.
Schneider said Bush had not yet made his way to any of the other islands in Ulithi Atoll, such as Federai. "Second-hand reports from those are grim," he said, and responders have been in short supply.
With a population of about 103,000, FSM is comprised of four states over 600 islands — about 1800 miles from end to end. Typhoon Maysak struck Ulithi Atoll with 160 MPH winds, with gusts to 195 MPH — a Category 5 storm. A major storm surge of unknown height also hit, and infrastructure on most islands, including schools, homes, and the power and telecommunication systems, suffered major damage or were destroyed altogether.
Schneider has requested that the Amateur Radio community listen for relief traffic on HF, but not to interrupt if vital communications are in progress. Ham Aid kits containing both HF and VHF/UHF gear had been shipped to Hawaii last fall, as the massive Puna volcanic lava flow threatened some communities on the Big Island of Hawaii. It includes both HF and VHF gear. Only the HF gear was sent to FSM. Read more.