ARES NEWS
Ham Radio Bridging the Gap in Wildfire-Stricken California
More than a dozen wildfires in Northern California have damaged or destroyed cellular telephone and internet infrastructure in some areas, and Amateur Radio has helped to fill the communication gap. Mendocino County Sheriff Thomas Allman told news media on Tuesday, October 10, that damage to cell towers and fiber optic telephone and computer lines had left officials relying on Amateur Radio operators to communicate with area hospitals.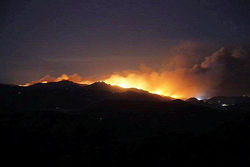 Fire on the mountain: Solano County, California. [Elana Leoni photo]
ARRL contacted Robin Carter, a resident of the Willits area in Mendocino County, who confirmed that ham radio operators were, until midweek, stationed at all North County hospitals and large nursing homes, supplementing the county's emergency communication system. She said cell and landline telephone service had been knocked out at her home, along with the fiber optic internet connection, although the family has satellite internet. She said internet service was at least temporarily restored on Wednesday.
Her husband Mike Carter, KC6MGM, a Mendocino County Community Emergency Response Team (CERT) volunteer, had, until Wednesday, been staffing a station at Howard Memorial Hospital in Willits for 12 hours a day.
Radio amateurs also assisted with communication at Ukiah Valley Medical Center in Ukiah; Northbrook Nursing Home in Willits; the Mendocino Coast Hospital in Fort Bragg, and Red Cross shelters at Ukiah High School and Willits High School, Robin Carter said.
The Redwood Complex Fire, the northernmost of the fires, was responsible for the Mendocino County outages. The Atlas Fire in Solano and Napa counties is the largest and most disastrous wildfire. It covers more than 42,300 acres and was only 3% contained as of October 11.
In Sonoma County, Sonoma County Radio Amateurs (SCRA) has been conducting an ARES Fire Watch Net to relay fire and emergency information on its repeater. Auxiliary Communication Service (ACS) Radio Officer Dan Ethen, WA6CRB, said a controlled Sonoma County Fire and Emergency Services RACES/ACS net is also active. In Solano County, radio amateurs are reported to be supporting shelter operations.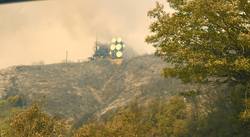 Fires have damaged or destroyed telecommunications infrastructure in California.
In Sonoma County, Sonoma County Radio Amateurs (SCRA) has been conducting an ARES Fire Watch Net to relay fire and emergency information on its repeater. Auxiliary Communication Service (ACS) Radio Officer Dan Ethen, WA6CRB, said a controlled Sonoma County Fire and Emergency Services RACES/ACS net is also active. In Solano County, radio amateurs are reported to be supporting shelter operations.
The fast-moving, wind-driven blazes — 18 large fires in all, according to FEMA — have driven thousands from their homes, killed at least 2 dozen people, and destroyed more than 1,300 homes. FEMA said the fires cover some 150,000 acres in all. Some towns have been virtually leveled. Most of the wildfires are clustered around Santa Rosa, north of San Francisco. According to FEMA, some 106,000 residents are under mandatory evacuation orders, more than 36,500 homes are threatened, and 59 Red Cross and independent shelters are open with 5,117 evacuees.
A state of emergency exists in Napa, Sonoma, Butte, Lake, Solano, Mendocino, Nevada, Orange, and Yuba counties. The California Emergency Operations Center is partially activated.
California Department of Forestry and Fire Protection mobile communications centers (MCCs) are equipped with Amateur Radio stations, but it's not known if any hams have been deployed on any MCCs in the field for the current spate of wildfires. Read more.
Hurricane Nets Activate for Nate
Vice President Visits "Force of 50," Red Cross Invites Volunteers to Extend Stay
Vice President Mike Pence visited "Force of 50" volunteers and emergency responders at the Puerto Rico Emergency Operations Center (PREOC) in San Juan's Convention Center on October 6. "He gave a very motivating speech, and our very own Gary Sessums, KC5QCN, shook his hand," volunteer Valerie Hotzfeld, NV9L, reported.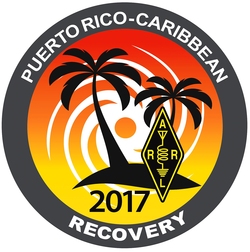 The American Red Cross (ARC) this week invited the Amateur Radio volunteers now in Puerto Rico to extend their duty tours. Members of the "Force of 50" deployed to Puerto Rico at the start of the month, all as ARC volunteers. ARRL Emergency Preparedness Manager Mike Corey, KI1U, joined the cadre of volunteers last week and hit the ground running. Nearly 2 dozen ARRL volunteers from the mainland and numerous local radio amateurs have been working in concert over the past couple of weeks, doing what needs to be done to help Puerto Rico to recover from hurricane devastation.
Puerto Rico Section Emergency Coordinator Juan Sepulveda, KP3CR, is better prepared to assist, now that volunteers have delivered a radio and antenna to him in Lares. "This now gives us a local ham covering the Lares Medical Center and the hospital, so our ARRL American Red Cross Amateur Radio operator can cover the Casteñel hospital nearby," ARC volunteer Valerie Hotzfeld, NV9L, noted in a team update. Sepulveda has been coordinating the ARES efforts on the west side of the island since the recovery began.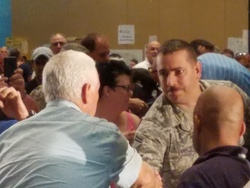 Vice President Mike Pence greets Gary Sessums, KC5QCN.
Amateur Radio has continued to provide a link for the medical community in Puerto Rico. Volunteers have deployed to hospitals, including remote hospitals that are without communication.
This week, the team relayed a request for Culebra Hospital, which reported that a generator fire had forced relocation to a nearby clinic. In addition, volunteers relayed a request from Culebra Hospital that it needs temporary housing from FEMA for necessary staff members who lost their homes in the hurricane. The team also relayed a message for Hima San Pablo Hospital in Fajardo, which needed specialized IV fluids for a 4-day-old infant.
Rob Landon, KE8AMC, stationed at the hospital on Vieques, learned from the hospital administrator that they needed to evacuate dialysis patients, who require air conditioning that the hospital is unable to provide. "We made their day," said Hotzfeld. "They were not aware of our presence and were impressed with our communications capabilities."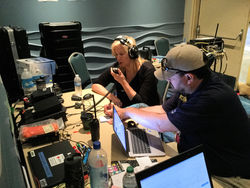 Val Hotzfeld, NV9L (left), and ARRL Emergency Preparedness Manager Mike Corey, KI1U.
An Amateur Radio operator has been assigned at Centro Medico (Medical Central) to provide communication between the center and other hospitals. "This happened just in time, because the Menonita (Mennonite) Hospital in Caguas had both generators fail," Hotzfeld said. The emergency room doctor at Medical Central and the ham embedded there, Juan Trujillo, N0PSF, coordinated with Dennis Perez, WP4Q, at the Mennonite Hospital in Caguas to transfer four critical patients to the Mennonite Hospital in Cayey.
Volunteers at the EOC relayed a request from Guayana Hospital for snacks, water, and a generator. Their second generator was reported to be about to fail. They also relayed requests from hospitals for fuel and water, and they provided communication for fire departments contacting the EOC.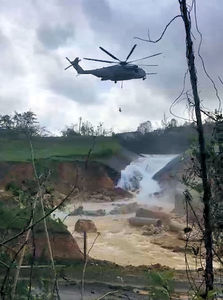 A helicopter drops a huge concrete barrier into a breach at Guajataca Dam.
A dozen or so volunteers continue to handle traffic and relays from the EOC. The Red Cross deployed five radio operators to provide communication for its reunification teams. Safe and Well data collection continues at Red Cross shelters, and reunification work involves going out into areas that have no communication. The Amateur Radio operators on the island also passed a substantial volume of health-and-welfare traffic.
Efforts continue toward resurrecting the devastated electrical power infrastructure in Puerto Rico, and 40 to 50 Puerto Rican radio amateurs have been assisting the power authority to maintain communication as it works to restore power.
Hotzfeld; Puerto Rico Section Manager Oscar Resto, KP4RF; Corey, and Amateur Radio liaison to the FEMA ESF-2 Communications Task Force Gary Sessums, KC5QCN, traveled to Arecibo, Lares, and the Guajataca Dam to deliver bottled water as well as spare VHF radios to permit direct communication between Isabela and the dam, where infrastructure repairs are under way. A repeater has been delivered to Arecibo Observatory.
Several team members stocked up on powdered milk, peanut butter, water, rice, canned fruits and vegetables, and bags of fresh apples, and delivered these to people in the Arecibo area.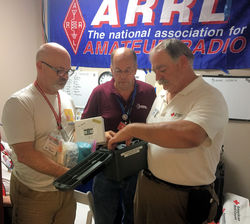 From left to right: Joe Bassett, W1WCN; ARRL Puerto Rico SM Oscar Resto, KP4RF, and Ed Halcomb, KD8WAV, who delivered two radios and batteries donated by the Kalamazoo Amateur Radio Club for use in the field.
The fire station in Guayama reported a complete lack of water, with people being turned away. One of the Amateur Radio volunteers was able to assist from the fire station in Juncos.
Volunteer Joe Bassett, W1WCN, worked via relay with local operator Al Medina-Ramirez, NP3MR, to reestablish contact with an Army task force on Vieques Island. Army MARS operators were unable to get in touch with the task force dispatched to assist the island's hospital. Medina-Ramirez responded to a call from W1WCN to travel to the hospital and contact the task force, which was found safe and well and awaiting transport via helicopter, which had been delayed due to the weather.
Amateur Radio operators at the EOC assisted Samaritan's Purse in providing a generator to power a repeater near Jayuya. Contact was provided to have local radio amateur WP4PNS meet Samaritan's Purse personnel to exchange the generator.
FEMA has reported that only about 19% of cell telephone sites are operational, and 15% of customers have electrical power. The Salvation Team Emergency Radio Network (SATERN) stood down on October 11. — Thanks to ARRL Puerto Rico SM Oscar Resto, KP4RF; Valerie Hotzfeld, NV9L; ESF-2 Amateur Radio Liaison Gary Sessums, KC5QCN, and National SATERN Liaison Bill Feist, WB8BZH
Amateur Radio Volunteers in Puerto Rico Meet a Variety of Communication Needs
The Amateur Radio volunteers who deployed as American Red Cross volunteers to Puerto Rico as part of the "Force of 50" this past weekend have been focusing their efforts where their help is most needed. ARRL CEO Tom Gallagher, NY2RF, said the volunteers, in general, will provide communications for local law enforcement and utility managers, island-to-mainland health-and-welfare traffic, and contact with the island's more remote areas.
ARRL Emergency Preparedness Manager Mike Corey, KI1U, said arriving volunteers initially gathered at the Convention Center in San Juan, which is now serving as Puerto Rico Emergency Management Agency (PREMA) Headquarters. Their first night, a local church offered accommodations, he said, and volunteers slept on pews that had been pushed together.
Since the storm struck Puerto Rico on September 20, ARRL Section Manager Oscar Resto, KP4RF, and other volunteers have staffed VHF and HF nets at the American Red Cross temporary headquarters in San Juan, despite damage to their own homes. The 24/7 net covers nearly two-thirds of the island and has been handling traffic to and from the power company, Autoridad de Energía Eléctrica (Electric Power Authority — AEE), and state and local authorities. The electric distribution infrastructure suffered extreme storm damage, and only about 9% of customers have power. Twelve team members were assigned to provide communication for engineers involved in repairing power distribution centers.
An Amateur Radio station has been installed and an operator embedded at the Puerto Rico Emergency Operations Center (PREOC). Radio amateurs also were asked to establish VHF communication capabilities at 51 hospitals throughout the island, so they can have direct contact with the EOC.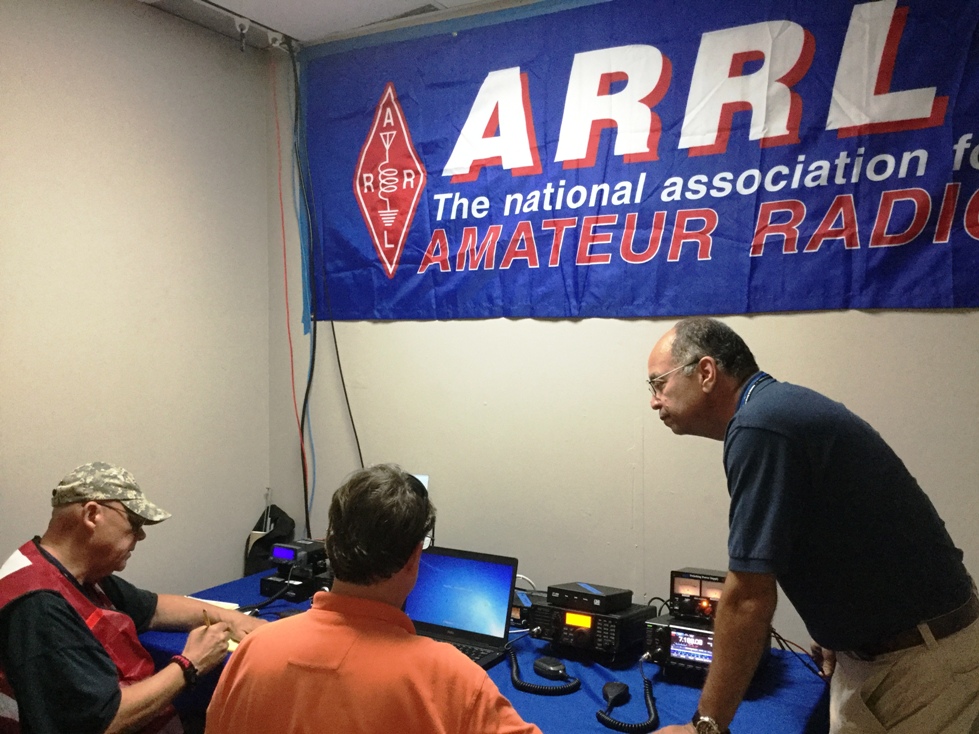 ARRL Puerto Rico Section Manager Oscar Resto, KP4RF (right), works with two new "Force of 50" volunteers at Red Cross Headquarters in San Juan.
Volunteer Val Hotzfeld, NV9L, told ARRL in an October 4 update that the team on the ground has recruited three local hams to handle Amateur Radio communications at hospitals in Jayuya, Humacau, and Caguas. "They were on site and began handling hospital traffic today," she said in her October 4 situation report. "We successfully received and forwarded traffic from three hospitals needing water and fuel."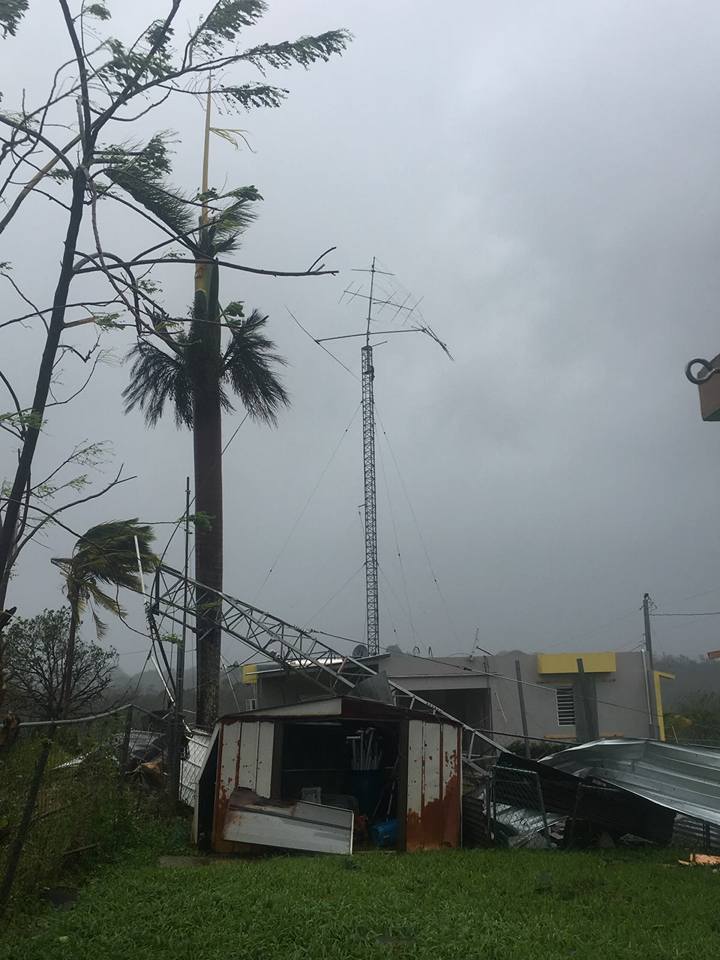 "My station will be QRT for a long time," said Alfredo (Al) Velez Ramos, WP3C/NP4DX.
Puerto Rico volunteers and local hams alike have successfully passed "lots of traffic" to net control, which has been forwarded on to the appropriate agencies. Some examples included getting an oxygen tank to a nursing home resident and insulin to a diabetic youth.
A local radio amateur was recruited to handle hospital communications at Centro Medico. "This is the main hospital on the island and needs communication to handle transfers from the other hospitals and medical centers," she said. The Puerto Rico team has begun checking with hospitals to see which ones have telephone service, before dispatching additinal operators.
Hotzfeld said they've received a request from AEE, which operates the precarious Guajataca hydroelectric dam, to deploy another operator to the dam and assist those fixing the channel that delivers water to about 350,000 in the Quebradilla and Isabella area. "We are now also being tasked with doing the same for all the police departments in Puerto Rico," she added. "We are gathering information on roads that are open from the EOC and providing it to the Red Cross for their missions."
The Amateur Radio liaison at the EOC is working with federal officials to co-locate Amateur Radio repeaters on tower sites now being restored to improve communication island-wide. The volunteer team was approached by the Southern Baptist disaster team to discuss the possibility of utilizing a few of their team members who hams to help with communication tasks.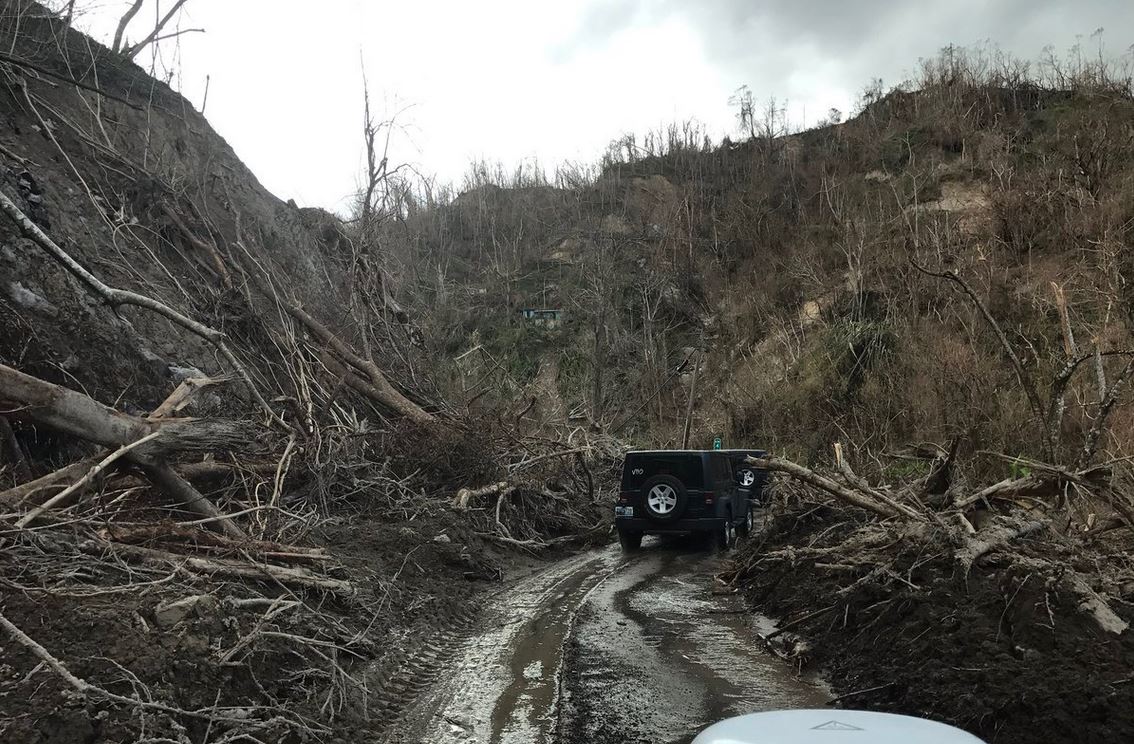 A FEMA vehicle navigates a muddy back road, where trees and foliage have been stripped bare. [FEMA photo]
Volunteers Jeremy Dougherty, NS0S, and Bobby Price, KB4ROR, are in Yauco. "We installed our rigs in the fire truck and gave them our handhelds. It left us no other radio for local contact," the pair reported on October 3. They reached out to Marcos Pereda, KP3CA, in Yauco, who loaned the team his FTM-100DR.
They didn't have an antenna that would offer sufficient range, so they improvised, fashioning a "tape measure" five-element Yagi, using supplies from a local hardware store and a coax jumper from their extra HF radio. "We installed everything and made contact with N5TGL and N0CSM, who are 50 miles away, [using] the repeater between us," they said.
Volunteers Jeremy Dougherty, NS0S (left), and Bobby Price, KB4ROR, and their tape-measure Yagi.
There have been problems filling resource requests from remote areas of the island. A message was relayed on WinLink by Juan Sepulveda, KP3CR, from volunteer team members in Mayagüez on behalf of Lares Mayor Roberto Pagán, who had put out an urgent call for water for the town of some 5,000.
According to one FEMA official, the White House situation room is extremely pleased and enthusiastic about the service Amateur Radio volunteers are providing in Puerto Rico.
An HF station with Winlink capability and a VHF/UHF station have been set up in the FEMA disaster field office, and volunteers have been reporting in by radio from around the island to post situation reports. Four volunteers were positioned to accompany and provide VHF communication at Red Cross distribution centers on a daily basis. Two volunteers also were sent to Culebra Island to establish VHF and HF communication there, the first since the storm.
Advisory: Requests for Information from the Public and the Press
Many individuals have loved ones in Puerto Rico, and they are understandably hopeful that Amateur Radio operators can relay messages to them. As a result, some are contacting amateurs with requests to pass message traffic to the island.
At the same time, individual amateurs and clubs have reported that local media representatives have contacted them to request information about Amateur Radio involvement in Puerto Rico. This likely will increase as word spreads in the national media about our activities.
For inquiries from the public, ARRL advises that these individuals be informed that amateurs traveling to Puerto Rico to support the American Red Cross effort will be tasked with handling outbound traffic only. Members of the public concerned about family and friends in Puerto Rico should access the American Red Cross Safe and Well Website. Status information from friends and relatives in Puerto Rico will be entered into the system as it arrives from amateurs stationed there.
For media inquiries, please ask reporters to contact ARRL directly. A system has been established at ARRL Headquarters to respond to media inquiries in a timely and accurate manner.
"Force of 50" Steps Up to Assist Hurricane-Ravaged Puerto Rico
Members of the Amateur Radio community have volunteered to assist in the ongoing recovery from Hurricane Maria, which devastated Puerto Rico and Dominica and, to a lesser extent, the US Virgin Islands. This week, 50 of the most accomplished US radio amateurs responded within 24 hours to a call from the American Red Cross (ARC) to deploy to Puerto Rico and provide emergency communications assistance there. At the ARC's request, ARRL rallied the US Amateur Radio community to provide up to 25 two-person teams of highly qualified hams. ARRL CEO Tom Gallagher, NY2RF, said that more than 350 answered the call, from nearly every state.
"This generous outpouring of response represents the finest qualities of the Amateur Radio community," he said. "These individuals are dropping whatever they are doing now, heading off to an extended hardship-duty assignment, and offering their special talents to Americans who have been cut off from their families, living amid widespread destruction and without electrical power since Hurricane Maria struck the Caribbean region last week."
The group's principal mission will be to move health-and-welfare information from the island back to the US mainland, where that data will be entered in the Red Cross Safe and Well system. The Salvation Army Team Emergency Radio Network (SATERN) has been asked to assist these operators when they check in with tactical, health-and-welfare (H&W), and Safe and Well messages.
SATERN and other active nets are not accepting incoming H&W inquiries. The Caribbean Emergency and Weather Net (CEWN) is taking incoming H&W inquiries via e-mail for Dominica. The Puerto Rico Federal Affairs Administration (PRFAA) is taking inquiries (only one per sender) via e-mail for Puerto Rico. Inquiries should include the full name and location of both the sender and the individual(s) being sought and the sender's e-mail address.
Denis Santiago, WP4KJJ (right), and Raul Gonzalez, KP4RGD, organized the communication network in Puerto Rico and operate the station at American Red Cross's temporary San Juan headquarters, "with a great number of hams who left their families to help Puerto Rico to recover," ARRL Puerto Rico Section Manager Oscar Resto, KP4RF, told ARRL.
The group will be in Puerto Rico for up to 3 weeks. ARRL has equipped each team with an HF transceiver, software, a dipole antenna, a power supply and all connecting cables, fitted in a rugged waterproof container. In an unprecedented and crucial move, the Federal Emergency Management Agency (FEMA) agreed to help get the Ham Aid gear to Puerto Rico.
The League also is sending two VHF repeaters, a dozen hand-held transceivers, five mobile radios, what Gallagher described as "5 cubic feet of batteries," a number of small 2-kW portable generators, and solar-powered battery chargers. The hams and their equipment will be sent to Red Cross shelters extending from San Juan to the western end of the island.
In addition, ARRL has committed to purchasing up to $50,000 worth of new Ham Aid gear for this and for future emergencies.
Ham Aid kits are packed and ready for shipping at ARRL Headquarters.
ARRL's Emergency Preparedness Manager Mike Corey, KI1U, said this was the first time in the nearly 75-year relationship between ARRL and the ARC that such a request for assistance had been made. "Hurricane Maria has devastated the island's communications infrastructure," Corey said. "Without electricity and telephone, and with most of the cell sites out of service, millions of Americans are cut off from communicating. Shelters are unable to reach local emergency services. And, people cannot check on the welfare of their loved ones. The situation is dire."
The Yasme Foundation announced this week that it has made a grant to ARRL's Ham Aid fund, in support of the Amateur Radio response to the recent hurricanes in the US and Caribbean. The Ham Aid fund was created in 2005 in response to the need for equipment and resources to support the Amateur Radio response to hurricanes Katrina, Rita, and Wilma.
A September 27 CNN report documented the personal impact of the storm on Puerto Rico and Amateur Radio's role in the recovery.
How You Can Help
ARRL President Rick Roderick, K5UR, has asked for contributions to ARRL's Ham Aid fund. "Equipment has been flying out the door since Hurricane Harvey struck the US mainland," he emphasized. "From meeting requirements in aid of Hurricane Irma victims in the US Virgin Islands and Florida, our store of Ham Aid kits has been depleted."
ARRL's Ham Aid program loans Amateur Radio equipment kits to established Amateur Radio Emergency Service (ARES®) groups and partner agencies during disaster responses, in order to establish Amateur Radio communication support. Ham Aid is supported by donations from individuals and corporations, including many of our ham radio industry partners.
ARRL has previously staged Ham Aid equipment in Texas as well as supplied kits to Florida, the US Virgin Islands, and Puerto Rico. With the Ham Aid inventory depleted, donations are needed now. Contributions to Ham Aid are 100% tax deductible. To donate online, select "Ham Aid" from the ARRL donation form. To donate by mail, print a donation form, and mail it with your check payable to ARRL, noting "Ham Aid" on the memo line of your check. Mail to ARRL, 225 Main St., Newington, CT 06111 USA.
Amateur Radio Volunteers Filling Communication Gap in the Caribbean
Puerto Rico and the US Virgin Islands both suffered substantial damage from Hurricane Maria, although Puerto Rico took the bigger hit, and it is there that Amateur Radio has been filling a huge telecommunications gap. The FCC said at mid-week that 91% of cell telephone sites were still out in Puerto Rico. In the US Virgin Islands, the figure is about 60%.
ARRL Puerto Rico Section Manager Oscar Resto, KP4RF, with an unidentified ARC volunteer. [Photo courtesy of Oscar Resto, KP4RF]
"The situation in Puerto Rico is very devastating across all the island," Puerto Rico SM Oscar Resto, KP4RF, said over the weekend. "Communications via land phone or mobiles are almost nil." Repeaters are down, he said, and hams have been using the 2-meter simplex frequency of 146.52 MHz, although he hoped to see some repeaters come back on line (the 448.225 repeater in Bayamon has been online, handling health-and-welfare traffic).
With police repeaters also down, law enforcement has been using 2 meters as well.
American Red Cross Headquarters suffered the loss of its emergency generator due to flooding. A temporary ARC headquarters has internet and cell service, he said.
Red Cross volunteers have been busy assisting those affected by Hurricane Maria. [ARC photo]
Resto said radio amateurs have also been assisting Puerto Rico's Electric Power Authority (Autoridad de Energía Eléctrica) using 146.52 MHz to dispatch line crews and coordinate fuel deliveries for the authority's offices at the Monacillo Control Center and at several power plants. "The power system is fully shut down for all the island," he said. Drinking water and proper sanitation facilities are also in very short supply. Resto said Puerto Rico needs "everything…solar panels, repeaters, and most important, transmission lines and antennas. Some base or mobile VHF/UHF radios, a 1- to 2-kW power generator." Fuel for generators as well as vehicles is still in short supply on Puerto Rico.
Radio amateurs in Puerto Rico have been operating brisk and busy ad hoc health-and-welfare traffic nets on 7.175 and 14.270 MHz, as has the Salvation Army Team Emergency Network (SATERN) on 14.265 MHz. Gerry Hull, W1VE, reported that the net on 14.270 MHz has handled thousands of messages in the past week. Hull has also been active on the SATERN net. Today will mark Day 11 of the Hurricane Maria activation for SATERN, surpassing the 8-day SATERN operation for Hurricane Irma and making it the longest activation since Hurricane Katrina in 2005.
"Calls to family are very emotional," he told ARRL. "I am getting all kinds of calls day and night for people desperate to hear about family in Puerto Rico, but hams cannot provide inbound traffic." He directs them to the Red Cross website. "Lots of contesters are helping with their big stations," he said.
ARRL USVI Section Manager Fred Kleber, K9VV.
US Virgin Islands Section Manager Fred Kleber, K9VV, said the USVI are in much better shape than Puerto Rico. "They really got slammed hard," he said. Kleber said he still has antennas that were not destroyed by the storm and that he can hit Puerto Rico on 2 meters from his location. He also plans to deploy some 20 mesh wireless network nodes to provide connectivity between key USVI government locations. "We have used every trick in our comms bag of tricks to make stuff work," he said.
Kleber said pictures in the news and social media don't do justice to the wholesale devastation in parts of the Caribbean. In the USVI, he said, trees, power poles, transformers, and telephone lines were downed all over, and debris blocking roadways is making travel slow or altogther impossible. He and others have been staffing the emergency communications center 24/7.
The Caribbean Emergency and Weather Net (CEWN) on 7.188 and 3.815 MHz has focused its attention on the situation on Dominica.
"Truly I think that the regional agencies were not ready for a calamity of this magnitude," Kumar Persaud, J85K, one of the CEWN net controllers said last weekend. "The CEWN operators have ended up filling the communications gap for the agencies, without any prior briefing."
Some of the hurricane damage on Dominica. [Caribbean Disaster Emergency Management Agency photo]
The net has been dealing with a tremendous volume of traffic for Dominica and Puerto Rico, with a handful of stations handling emergency and priority communications for a million or more people.
ARRL Santa Barbara Section Technical Advisor Ben Kuo, AI6YR — who has been keeping a close ear on the situation in the Caribbean — said hams on St. Lucia and Dominica and from outside the region coordinated the landing of emergency relief vessels from Barbuda and advised rescue groups on logistics. Amateur Radio also has provided a path for government communication on Dominica, where conditions are starting to improve.
There's more information on the Amateur Radio response on the Hurricane Maria-Dominica Amateur Radio Communications (DARCI) Facebook page. National Public Radio (NPR) highlighted the role of Amateur Radio in the Dominica response in a September 21 story.